Speaking to a small group of journalists over a video link from Kabul on July 19, Ferron also said NATO believes the insurgency's roots are in the economic deprivation prevalent in Afghanistan, and not in implacable religious fundamentalism.
At the midpoint of his yearlong stint as chief intelligence officer of NATO's International Stabilization Force for Afghanistan (ISAF), Ferron readily admits there is little that is tangible or clear-cut about the problems he's grappling with.
Given the complexity and hermetic nature of Afghan society, NATO officials say there is no hard data on the number of insurgents, their precise composition, or motives.
Ferron says NATO is "very concerned" about the possible financial support, training, and ideological guidance the Taliban movement might be providing to what he describes as "traditional" Afghan insurgents. But he adds the caveat that NATO "does not have enough of an understanding" of the specifics of this relationship.
Tribal, Not National Organization
Much of what NATO has to go on is limited to deductions from basic facts. Ferron repeatedly highlighted the importance of the fact that Pashtun society, which provides most recruits to the Taliban, straddles the Afghan-Pakistani border and traditionally pays little heed to the frontier.
"As we all know, the Afghan insurgency is essentially a tribal-based organization, and tribes -- and this is not a political statement about borders -- but tribes, such as the Pashtun, do not recognize borders," he said.
"They base their movement along traditional lines and along their historical culture. So the fact that we see the insurgency moving across the Pakistan-Afghan border is not secret, [the question] is how we interdict or how we stop that," Ferron concluded.
Ferron said that puts Pakistan in an immensely influential position. He said Afghanistan is likely to be affected by the events that have followed the recent storming by Pakistani forces to wrest the Red Mosque from militants barricaded inside. Ferron said Pakistani President Pervez Musharraf has promised NATO to follow up the siege of the Red Mosque with further initiatives against the frequently Pashtun insurgents.
Ferron said that the insurgents -- mostly concentrated in North and South Waziristan along the border with Afghanistan -- face a choice: They must either fight the Pakistani Army or cross over to Afghanistan.
Ferron said NATO is ready if they choose the second option. But Ferron also warned that the spillover of a growing radicalization of ethnic Pashtuns in Pakistan into Afghanistan may be unavoidable if it allowed a "stranglehold" on one region.
"So, if you take a communications network which is a tribal network -- and [given] that the Pashtuns are tribal, something that would be in effect in Pakistan, [that is] the 'Talibanization' [referred to in the question] -- if it does have an opportunity to take a stranglehold or to become stronger in one region, there is a definite potential that it moves stronger throughout that entire 'Pashtun belt,'" Ferron said.
Complicated Motives
Ferron identified the rejection of Western influence as an important motivating factor in the mostly Pashtun-derived insurgency in southern and eastern Afghanistan.
"If you take the component parts of these combatants and this theater, there are certainly those elements which have an ideological basis, an ideological belief, that what is happening in their country does not meet with their ideals in terms of governance, and, yes, I'll say religion," he said.
But Ferron quickly qualified this by saying he does not like to use the term "fundamentalism." He also emphasized that there are many Pashtuns who have not joined the insurgency.
Ferron said he believes the deeper causes of the insurgency are social in nature -- poverty, lack of economic opportunities, and insufficient levels of education. He says these factors might trump ideological fervor when it comes to the motives of the young men joining the insurgency.
"Who is 'the enemy' in Afghanistan? Who is 'the enemy'? 'The enemy' is illiteracy, it's poverty, it's unemployment," he said. "It is the social factors that do not allow a vibrant economy. So when you have young men, primarily, who may or may not be in a Pashtun tribe, [and who] have nothing else, they go potentially to the insurgency motivated by money, not necessarily by an ideological foundation."
Opium As Livelihood
Ferron said opium-poppy cultivation in Afghanistan further complicates matters. For many farmers, poppy growing constitutes their livelihood and, faced with the eradication drive, they have two options -- give up their livelihood or fight for it.
Ferron noted that if they fight, the poppy farmers automatically become insurgents from NATO's point of view. He said poppy growers, the criminal gangs trafficking heroin, and the Taliban live in a "symbiotic relationship." They all may have different aims, but they all need money to achieve them, and that is why all need the drug trade.
Ferron observed that in Afghanistan's north, the insurgency is mostly "criminal" in nature, linked to the interests of drug traffickers.
Afghanistan's Opium Problem
Afghanistan's Opium Problem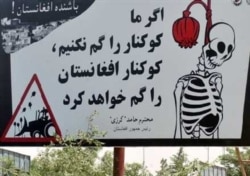 An antidrug billboard in Kabul shows a skeleton hanging from an opium bulb (AFP)
OPIUM FARMING ON THE RISE Despite a nationwide program by the Afghan government to eradicate opium-poppy fields and offer farmers alternative crops, international experts say that the 2006 opium crop was as much as 50 percent larger than the previous year's record crop. Afghanistan also accounted for practically all of the world's illegal opium production.(more)
RELATED ARTICLES
NATO Struggles With Security, Rebuilding In Southern Province
UN Antidrug Chief Wants NATO To Destroy Opium
Saffron Could Help Wean Farmers Off Opium Poppies
Poppy-Eradication Drive Launched In Western Province
Insurgency Gains Ground As Poppy-Eradication Efforts Struggle
SUBSCRIBE
For weekly news and analysis on Afghanistan by e-mail,
subscribe to "RFE/RL Afghanistan Report."