The life of the deposed monarch spanned some of the most tumultuous times in Afghanistan's modern history, including the Soviet invasion, years of factional warfare, and the fundamentalist rule of the Taliban.
His final years saw him return to Kabul, not as king but as a frail "father of the nation" intent on helping bring democracy to his homeland.
President Hamid Karzai paid tribute to the former king in a statement today in Kabul: "On the death of the 'father of the nation,' I announce three days of national mourning. The Afghan flag will fly at half-staff, and there will be prayer events throughout the country."
"His death will have a negative impact on Afghanistan's political situation,
and I am concerned that, after his death, there may be chaos in
Afghanistan."
Zahir Shah only recently returned to the global spotlight after decades of relative obscurity.
The former Afghan monarch returned from exile in April 2002 in a blaze of media coverage that overnight made him a key symbol of international hopes for the country's reconstruction. His return, from nearly three decades of exile in Rome, came just months after the U.S.-led overthrow of the Taliban and the inauguration of a new UN-backed interim administration.
Unifying Figure
A biographer of the former king, Woriz Stanikzai, told RFE/RL's Radio Free Afghanistan today that he worries that Zahir Shah's death could bring further trouble to a country that has had little respite from warfare since the coup that ousted the monarch in 1973.
"My personal view is that the entire nation was satisfied with him. Every tribe was counting on him and had special hope in him," Stanikzai said. "His presence in Kabul was very important for the peace process. Because of the respect for him, Karzai became president. His death will have a negative impact on Afghanistan's political situation, and I am concerned that, after his death, there may be chaos in Afghanistan."
Zahir Shah was an ethnic Pashtun steeped in classical Persian culture who had strong cultural ties to all of Afghanistan's ethnic groups. He asserted upon his return that he had no personal ambitions of restoring the monarchy. Instead, he said his only desire was to foster Afghan unity.
"I am not after reviving the monarchy, and my wish is to bequeath my services to the long-suffering people of Afghanistan. And I pledge, whatever my position, to foster national unity toward reestablishing democratic governance in accordance with the values of the Islamic religion," he said in June 2002 as he opened Afghanistan's first Loya Jirga, or national assembly, in decades.
That Loya Jirga endorsed the transitional government headed by Hamid Karzai that steered Afghanistan to its first-ever direct presidential election in October 2004.
Karzai won the 2004 presidential vote, and Afghanistan held provincial and national parliamentary elections nearly a year later, in September 2005.

Memories Of 'Golden Age'
Upon his return, Zahir Shah was warmly welcomed by many Afghans who regard his 40-year reign (from 1933 to 1973) as a "golden age" -- at least compared to the years of violence that followed.
The king was deposed in a bloodless coup in 1973 by a leftist cousin, Sardar Mohammad Daoud Khan. That set the stage for further power struggles. The Soviet invasion followed in 1979; then came years of factional warfare following the defeat of the Soviets in 1989 and, finally, the fundamentalist Taliban's capture of Kabul in 1996.
But while the former king was considered widely popular, his return was regarded as a threat by some political factions in the Afghan capital. Zahir Shah returned from exile surrounded by an entourage that for years had sought to retain influence in Afghan affairs, making rivalries with competing groups inevitable.
'Father Of The Nation'
In an apparent effort to defuse such tensions, the U.S.-backed Afghan administration bestowed on Zahir Shah the title "father of the nation." The position carried no official powers, and the former monarch confined himself to ceremonial functions and to quietly using his personal influence to enlist tribal and other leaders in Afghan reconstruction.
Zahir Shah used his appearance at the unveiling of the draft of Afghanistan's new constitution in November 2003 to make one of his frequent pleas for Afghans to work together.
"I hope that this constitution guides the people of Afghanistan toward prosperity and happiness," he said. "I wish that this constitution should be based on Islamic laws and democracy, and I ask God for prosperity for the people of Afghanistan forever."
During the past four years, Zahir Shah has been regularly meeting with citizens, as well as with tribal and religious leaders from all over Afghanistan. He has also been attending official ceremonies, including the December 2005 swearing in of Afghanistan's first parliament in 30 years, which he praised as "a step towards rebuilding Afghanistan after decades of fighting."
Zahir Shah had been in declining health for years. He was reported to be seriously ill and bed-ridden earlier this year.
Afghanistan And Pakistan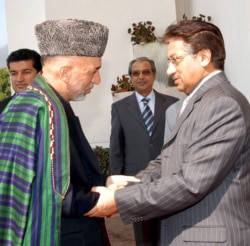 Afghan President Hamid Karzai (left) with Pakistani President Pervez Musharraf in Islamabad in October 2005 (epa)

ACROSS A DIFFICULT BORDER. The contested border between Pakistan and Afghanistan is some 2,500 kilometers long and runs through some of the most rugged, inhospitable territory on Earth. Controlling that border and preventing Taliban militants from using Pakistan as a staging ground for attacks in Afghanistan is an essential part of the U.S.-led international coalition's strategy for stabilizing Afghanistan. Officials in Kabul have been pointing their fingers at Pakistan for some time, accusing Islamabad or intelligence services of turning a blind eye to cross-border terrorism targeting the Afghan central government. Many observers remain convinced that much of the former Taliban regime's leadership -- along with leaders of Al-Qaeda -- are operating in the lawless Afghan-Pakistani border region.... (more)
RELATED ARTICLES
Pakistan-Afghanistan Conflicts Continue
Karzai, Musharraf Spar Ahead Of Bush Meeting
Musharraf Says Taliban Could Spark Pashtun 'National War'
Afghan Minister Attacks Pakistani Support For 'Terrorism'
Historical Context Of Afghan-Pakistani Relations
Afghanistan/Pakistan: 'Inseparable Twins' In Need Of Separation
ARCHIVE
RFE/RL
coverage of Afghanistan
. RFE/RL
coverage of Pakistan
.
SUBSCRIBE
For weekly news and analysis on Afghanistan by e-mail,
subscribe to "RFE/RL Afghanistan Report."