In a telephone call with RFE/RL's Radio Free Afghanistan, Taliban spokesman Qari Yusof Ahmadi said the hostage had been killed because the Afghan government had not met the militia's demand to release Taliban prisoners.
He said the Taliban had submitted a list of eight names for a prisoner swap, but that Kabul had not responded. He said more South Korean hostages will be killed if the government does not negotiate.
After initial silence, AFP has quoted Wahidullah Mujadadi, who it said is the head of the Afghan delegation trying to negotiate the hostages' release, as confirming that one South Korean hostages is dead.

Reports Of Eight Freed
Meanwhile, South Korea's Yonhap news agency has quoted an unnamed South Korean government official as saying eight of the hostages have been freed. South Korea's presidential office says it is not able to confirm that report.
Most of the hostages -- South Korean Christian aid workers -- are women. They were abducted on July 19 while returning to Kabul from volunteer work at a hospital in the southern province of Kandahar.
Earlier today, government negotiators said they were hopeful that talks with Taliban militants would lead to positive results.
A group of Afghan officials, a delegation from South Korea, and local elders and influentials have been in talks with Taliban militants in central Ghazni Province, where the hostages were snatched from a bus.

The Taliban spokesman had repeatedly sought to drive a wedge between the governments in Seoul and Kabul, encouraging the South Koreans to abandon the Afghan government in favor of direct negotiations.

Ghazni Province Governor Merajuddin Pattan, speaking earlier today by phone with Radio Free Afghanistan, said the militants wanted to exchange hostages for the same number of Taliban prisoners.

The Taliban "are demanding the release of 24 prisoners but have given us eight names only. We have asked them to give us all the names so we can consider this issue," Pattan said. "We also want to let them and the world know that Afghans never kidnap women. This is against Shari'a [Islamic law]; this is against Pashtunwali [Pashtun code of honor]. This is against all Afghan traditions, as well as humanitarian principles."

On July 23, Deputy Afghan Interior Minister Abdul Hadi Khaled said that the kidnappers had no clear demand.

News agencies initially reported that the kidnappers also demanded that South Korea withdraw its 200 noncombat troops from Afghanistan. In a response to the hostage crisis, the South Korean government reiterated its scheduled withdrawal of those troops, comprising engineers and medical staff, by the end of this year.

The Afghan government has refused to release any Taliban prisoners in exchange for the hostages.
In March, the Italian and Afghan governments came under criticism after it freed five Taliban militants in exchange for an Italian reporter who had been kidnapped
Meanwhile, a German reporter kidnapped early today by the Taliban has reportedly been freed, along with his Afghan translator.
Shalizai Didar, governor of Afghanistan's eastern province of Konar, says the two were freed through the mediation of tribal elders and what he described as "other influential people" in the village of Sangar.
There was no independent confirmation that the hostages had been released.
A spokesman for the weekly "Stern" magazine expressed "great concern" earlier today about the disappearance of their reporter, Christoph Reuter, while on assignment in Afghanistan.
Fate Of Other Hostages
The Taliban said on July 24 that five other hostages -- one German and four Afghans -- are still alive.
Two German aid workers were kidnapped on July 18. The bullet-ridden body of one of those hostages was discovered on July 22 after the Taliban announced they had executed him. But the German government says it is investigating whether the hostage was shot after he died of a heart attack.
(with material from agency reports)
The Afghan Insurgency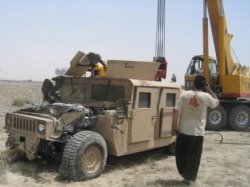 A U.S. military vehicle damaged by insurgents near Kandahar (epa)
HOMEGROWN OR IMPORTED? As attacks against Afghan and international forces continue relentlessly, RFE/RL hosted a briefing to discuss the nature of the Afghan insurgency. The discussion featured Marvin Weinbaum, professor emeritus of political science at the University of Illinois at Urbana-Champaign, and RFE/RL Afghanistan analyst Amin Tarzi.
LISTEN
Listen to the entire briefing (about 83 minutes):
Real Audio
Windows Media
ARCHIVE
RFE/RL's
coverage of Afghanistan
.
SUBSCRIBE
For weekly news and analysis on Afghanistan by e-mail,
subscribe to "RFE/RL Afghanistan Report."