The governor of Ghazni Province, Merajuddin Pattan, said the kidnappers extended their deadline because they are not yet ready to meet with Afghan negotiators.
Khawaja Mohammad Sedeqi, a member of the government's mediation team, says the kidnappers want more time to settle differences among themselves. He said the abductors are divided into three groups with different demands for the release of the hostages.

A member of the negotiating team, Deputy Interior Minister Major General Mohammad Munir Mangal, told RFE/RL today: "So far they [the hostages] are alive. We will see. Our negotiations with the Taliban are continuing. So far nothing has happened [to the 22 hostages who are still alive]."

Mangal also said some kidnappers want members of Afghanistan's parliament to be involved in the negotiations.
Envoy To The Rescue
A South Korean presidential envoy due to arrive in Kabul today was expected to go straight to an urgent meeting with Afghan President Hamid Karzai. They are expected to discuss how to save the remaining captives, most of whom are women.
The leader of the aid workers, who were abducted on July 19, was killed earlier this week.
The bullet-riddled body of the 42-year-old pastor was found on July 25 on the main highway heading south from Kabul -- close to where the group was seized while traveling on the highway between Kabul and Kandahar in Ghazni Province.
The captors have been surrounded for days by security forces. South Korean and Afghan authorities say they are making every possible effort to win the release of the hostages without a battle.
Hostage Pleads For Help
U.S. and British media say they have obtained an interview with one of the hostages.
CBS News said the woman pleaded for help and said that all of the hostages were sick. CBS said it had arranged the telephone interview with a Taliban commander.
The BBC said it had obtained a similar interview with the hostage.
(compiled from agency reports)
The Afghan Insurgency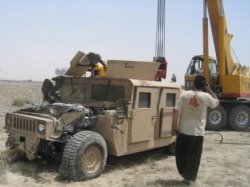 A U.S. military vehicle damaged by insurgents near Kandahar (epa)
HOMEGROWN OR IMPORTED? As attacks against Afghan and international forces continue relentlessly, RFE/RL hosted a briefing to discuss the nature of the Afghan insurgency. The discussion featured Marvin Weinbaum, professor emeritus of political science at the University of Illinois at Urbana-Champaign, and RFE/RL Afghanistan analyst Amin Tarzi.
LISTEN
Listen to the entire briefing (about 83 minutes):
Real Audio
Windows Media
ARCHIVE
RFE/RL's
coverage of Afghanistan
.
SUBSCRIBE
For weekly news and analysis on Afghanistan by e-mail,
subscribe to "RFE/RL Afghanistan Report."