IAEA Delegation To Travel To Iran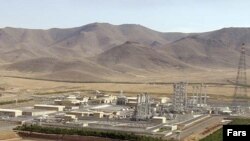 The Arak heavy-water nuclear plant (Fars) July 29, 2007 -- Reports from Iran say a delegation from the UN's International Atomic Energy Agency (IAEA) is scheduled to arrive in Tehran on July 30.
Iran's official IRNA news agency quotes an unnamed official as saying the delegation will visit a heavy-water reactor facility at Arak in central Iran.
Access to the Arak reactor for UN inspectors is a key step in efforts to allay concerns about Iran's nuclear program.
(IRNA)

THE COMPLETE PICTURE: RFE/RL's complete coverage of controversy surrounding Iran's nuclear program.
CHRONOLOGY
An
annotated timeline
of Iran's nuclear program.