Their plight highlights the risks that nongovernmental groups face while trying to ease Afghan suffering and rebuild that country.
The hostages are members of a South Korean Christian group who were snatched off a bus while delivering aid and medical care.
The second South Korean hostage to have been shot dead by insurgents in Afghanistan was an information-technology specialist who did volunteer work to help the poor.
Shim Sung-min's bloodstained body was found southwest of Kabul.
The body of the first victim -- a male pastor who led the group -- was found last week. He had helped prepare young people for volunteer trips to do aid work in developing countries.
Both slain men and 21 of their colleagues -- mostly women -- were in Afghanistan on a medical mission when they were kidnapped by militants on the Kabul-to-Kandahar highway.
Wary Enough?
The South Koreans are the single largest group of foreigners to have been kidnapped in Afghanistan in more than five years of fighting. They are the latest victims of an intensified insurgency led by militants who aim to create instability.
In the past week, a number of countries -- including South Korea, the United States, and France -- have warned their citizens about travel to or inside Afghanistan.
Afghan officials have also advised against any movement or travel, especially by humanitarian-aid workers, outside Kabul.
Reports suggest that Korean media and some foreigners based in Afghanistan have criticized the South Korean church group for a lack of care and preparation before traveling to Afghanistan. One Afghan Interior Ministry official hinted at a similar conclusion in the days immediately following their abduction.
But a friend of the slain leader of South Korean group was quoted by a Christian news website, compassdirect.org, as saying that the volunteers were well prepared for the trip. He countered critics by warning of the risks for Afghans if "everyone leaves" such conflict zones "when things get hard." He added that if such volunteers leave, "Who will stay to help the people?"
NGO Concerns
Jamie Terzi, the assistant country director of international aid group CARE in Afghanistan, tells RFE/RL that aid groups are watching the hostage drama carefully while noting an alarming "rise in kidnappings" in the country.
Terzi says the security procedures of most aid groups operating in Afghanistan would not have allowed their employees to travel by road to such insecure areas.
"What happened with this particular group is quite anomalous to how the rest of International [nongovernmental organizations] would operate in the country," Terzi says. "For development agencies like CARE -- the international organizations -- it would be highly unusual for them to have allowed staff to travel on that road, particularly in such large numbers."
Violence and attacks against aid workers in Afghanistan are nothing new. A number of them have been threatened, harassed, kidnapped, and even killed in the years since the U.S.-led toppling of the Taliban regime in 2001.
Insurgent Tactics
But observers say militants opposed to the central government and the international troop presence in Afghanistan have broadened their tactics -- frequently taking aim at more vulnerable targets like civilian populations, journalists, or aid workers.
Terzi says aid and development groups operating in Afghanistan must be more careful now than ever.
"[We're being] careful not only in terms of our own situation -- we don't want to put ourselves and our staff at risk but also careful about the type of works that we do in this environment because it's always changing and people can interpret things you do different than to what your intentions are, so you have to have close links to the community, constantly be aware and vigilant and really keep en eye on what is happening and you can't necessarily work in all the places that you want to go," Terzi says.
Mohammad Hashim Mayar, the deputy director of the Agency Coordinating Body for Afghan Relief (ACBAR) in Kabul, tells RFE/RL that the kidnapping of the 23 South Koreans could further hinder the work of humanitarian workers in Afghanistan.
"The [Afghan] Interior Ministry has said that whoever travels outside Kabul should register or have an armed escort," Mayar says. "[But] aid organizations are impartial -- they don't want armed people to accompany them because it would damage their reputations. Moreover, having an armed escort would endanger their lives even more. Recently, those foreigners who need to visit their offices and projects outside Kabul have been unable to do so."
Mayar says the Afghan government should take stricter measures for the safety of both national and international aid workers, whose work is very much needed in the country.
"Whoever works in Afghanistan -- [whether] an Afghan or a foreigner -- needs security," Mayar says. "The work of the foreigners is very important. We need their knowledge and experience; they have the resources; they come here to help those in need. They need a calm and secure atmosphere."
Mayar says the kidnapping of the Korean aid workers is an affront to Islam and Afghan traditions of hospitality.
It is an argument that Afghan officials have repeatedly invoked during this crisis in an effort to convince the South Koreans' captors to release their hostages.
The Afghan Insurgency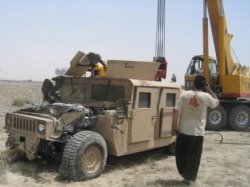 A U.S. military vehicle damaged by insurgents near Kandahar (epa)
HOMEGROWN OR IMPORTED? As attacks against Afghan and international forces continue relentlessly, RFE/RL hosted a briefing to discuss the nature of the Afghan insurgency. The discussion featured Marvin Weinbaum, professor emeritus of political science at the University of Illinois at Urbana-Champaign, and RFE/RL Afghanistan analyst Amin Tarzi.
LISTEN
Listen to the entire briefing (about 83 minutes):
Real Audio
Windows Media
ARCHIVE
RFE/RL's
coverage of Afghanistan
.
SUBSCRIBE
For weekly news and analysis on Afghanistan by e-mail,
subscribe to "RFE/RL Afghanistan Report."