RFE/RL:
Why is it so important at this time for U.S. President George W. Bush to meet for two days with Afghan President Hamid Karzai at the U.S. presidential retreat at Camp David?

Amin Tarzi:
There has been some pressure here in the United States because of the upcoming election next year -- the presidential election. The Democratic [Party] candidates are accusing the current administration of President Bush of not doing enough on Afghanistan and diverting resources and attention to Iraq. [They say] that has actually damaged the war against international terrorism.
Therefore, I think this [summit] has two purposes. One is domestic for President Bush, to show and confirm that Afghanistan stands as an important issue for his administration. And Afghanistan, of course, also means the war on terror.
Secondly, also, President Karzai is entering a crucial situation. Afghanistan is not as anybody had hoped for. Terrorism is increasing. And also, his own domestic issues are important. Karzai is not, according to some people, handling the job as he should have. He has foreign problems. He has terrorism problems. And also, he has a lot of domestic problems that could be fixed.
President Bush wants to show that Karzai is an ally [and] that the United States is standing behind his administration. But at the same time, I think he is going to get some advice or some expression of concern that things need to be done better in Afghanistan.

RFE/RL:
Afghanistan and Pakistan continue to accuse each other of failing to contain Taliban militants. Do you expect the issue of relations between Kabul and Islamabad to be discussed at the Camp David summit?

Tarzi:
Pakistan is important. The aid to Pakistan -- especially the $750 million that is earmarked for development of the Federally Administrated Tribal Agencies [along the Afghan-Pakistan border], and also concessions on goods made there to come to the United States without taxation -- that is important. As far as Pakistan is concerned, there has been both here [in the United States] domestically and on the international scene, rising concern about the situation between Afghanistan and Pakistan.
President Bush last year in the fall, in September, hosted President Karzai and [Pakistani] President General [Pervez] Musharraf. Unfortunately, that meeting did not lead to any long-lasting understanding between Kabul and Islamabad. Unless Pakistan and Afghanistan start to work together -- they don't have to love each other, but they have to respect each other -- the international war against terrorism will not be won. And, also, it may actually get worse.
Right now in the United States, there are assessments that Al-Qaeda is, in a way, regrouping -- meaning that they are trying to reestablish some sort of a network to harm the United States. And it is accepted that they need a safe haven to do some long-term planning. It is the border area between Afghanistan and Pakistan. So that is an important issue.
Now, I'm not aware personally of the agenda of the talks between the two presidents at Camp David. But I believe that one of the pressing issues would be President Bush asking President Karzai to do his best to mend relations with Pakistan so that the two countries can work [together] better in stopping the menace that exists in the border area between the two of them. If these two countries do not see eye to eye and do not recognize each other's boundaries, or accuse each other on a daily basis, of course, the winner would be international terror.
RFE/RL:
What does Karzai hope to gain from his talks with Bush?
Tarzi:
For Karzai, of course, I think he wants steadfast United States support for his administration. I think this trip will give him that, because, publicly, the last time Presidents Bush and Karzai met, it was a very brief meeting with President Musharraf there. So it was not Afghanistan-centered. It was Pakistan-Afghanistan-centered.
This is a very symbolic meeting. It is at Camp David. It is very personal. So in a way, it is a commitment of the United States' support for President Karzai's administration. Right now, there is one main gain for him. He wants to make sure that, at least, he has secured long American support because he is weak at home right now. He needs at least that support.
I think he will bring his laundry list of things Pakistan is not doing right. He will ask for more pressure to be put on Pakistan. And I think that will happen. Whether his laundry is fair or not, that is not for me to judge. But he will bring a laundry list of things that Pakistan is doing wrong.

RFE/RL:
Some U.S. officials suggest that the U.S. military may try to enhance its counternarcotics operations in Afghanistan after the Camp David summit. Do you expect President Bush to speak to Karzai about how illegal opium-poppy cultivation in Afghanistan can be eradicated?
Tarzi:
U.S. policy on poppies is becoming more robust. It is not only eradication. It is a multidimensional policy which does include eradication. Eradication is a bad word in Afghanistan. So whether the United States would insist on eradication as part of this multidimensional policy -- which does have alternative livelihoods, which has incentives, which has alternative crops and so on -- if the eradication aspect of it is still being pursued by the United States, I'm sure that will come up in these meetings because Karzai so far is opposing it openly. If the United States is still inclined to do so -- I do not know whether the U.S. would be pushing so much for that or a package on counternarcotics which would not use eradication.
The assessment here in Washington is that eradication is necessary. At least partial eradication. There are a lot of voices here, and I think those are sound voices, saying that with that amount of money -- we are talking about billions of dollars in illicit money -- a part of it will definitely go to the wrong hands or create a culture of criminality, where it allows the criminals and their allies, the terrorists, to actually gain from this.
Afghanistan's Opium Problem
Afghanistan's Opium Problem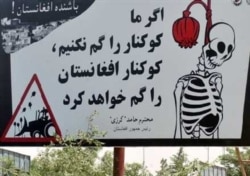 An antidrug billboard in Kabul shows a skeleton hanging from an opium bulb (AFP)
OPIUM FARMING ON THE RISE Despite a nationwide program by the Afghan government to eradicate opium-poppy fields and offer farmers alternative crops, international experts say that the 2006 opium crop was as much as 50 percent larger than the previous year's record crop. Afghanistan also accounted for practically all of the world's illegal opium production.(more)
RELATED ARTICLES
NATO Struggles With Security, Rebuilding In Southern Province
UN Antidrug Chief Wants NATO To Destroy Opium
Saffron Could Help Wean Farmers Off Opium Poppies
Poppy-Eradication Drive Launched In Western Province
Insurgency Gains Ground As Poppy-Eradication Efforts Struggle
SUBSCRIBE
For weekly news and analysis on Afghanistan by e-mail,
subscribe to "RFE/RL Afghanistan Report."