According to Georgia, the missile did not explode and landed in a cornfield close to the village of Tsitelubani, about 65 kilometers west of Tbilisi, and a few kilometers south of Georgia's breakaway South Ossetia region.
The incident is likely to sour further already bad relations between the two countries.
A local witness told RFE/RL's Georgian Service that the "plane flew over and dropped a missile."
"This is what we saw and heard -- there was big noise, and afterward [the plane] turned back. It came from the north, and left toward the north as well," the witness said.
The Georgian authorities have said that the missile firing on the evening of August 6 was an "act of aggression."
Interior Ministry spokesman Shota Ustiashvili told Reuters: "We had two Russian fighter jets entering Georgian airspace at around 19:30 Georgian time [on August 6]. They crossed [the border] around Kazbegi and we have radar reports of their flights all the way from Kazbegi and back to Kazbegi."
Georgia's president, Mikheil Saakashvili, has called on Europe to condemn Moscow over the incident. Saakashvili said Russia was trying, unsuccessfully, to provoke panic in Georgia.
"We will survive such things, and even worse things, if it becomes necessary for our country's freedom and future," he said. "The most important thing today is our strength and unity, and no one will be able to break, frighten us, or make us diverge from the path of peace and development."
Saakashvili was visiting the site near Georgia's breakaway South Ossetia region, where the country's Interior Ministry says the guided missile landed.
Russian Denial
Russia has denied the allegations.
A spokesman for the Russian Air Force, Colonel Aleksandr Drobyshevsky, said no Russian planes had flown into Georgian airspace.
"Russian airplanes did not undertake any flights in that area at any time on Monday or this morning. The border of the sovereign state of Georgia was not violated," Drobyshevsky said.
Irakli Aladashvili, a Georgian military expert, told RFE/RL's Georgian Service that Russia has been carrying out military exercises in the southern Russian republic of North Ossetia.
The incident is likely to be a further setback in the rocky relationship between Georgia and Russia.
The relationship deteriorated last autumn after Georgia expelled four military officers it accused of spying.
Russia subsequently imposed economic sanctions on Georgia and expelled hundreds of Georgians that Moscow said were guilty of immigration violations.
Frozen Conflicts
Underpinning the sour relations are Georgia's breakaway regions of Abkhazia and South Ossetia.
Georgia says that Russia supports separatists in those breakaway regions -- a charge Moscow denies.
Georgian officials have frequently claimed that Russian aircraft violate its airspace.
In 2002, Georgia accused Moscow of bombing a remote region in northeastern Georgia. And earlier this year, Tbilisi said Russian helicopters fired on its territory in the upper Kodori Gorge, located in Abkhazia.
But a recent UN report on the incident said it was not clear who fired the shots.
(with material from agency reports)
Russian Sanctions On Georgia
Russian Sanctions On Georgia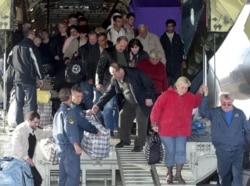 Georgian deportees arriving in Tbilisi on October 6 (epa)
RUSSIA DEPORTING GEORGIANS. Despite Georgia's release of four military officers accused of spying on October 2, Russia has continued its transport and postal blockade of Georgia, and has also deported hundreds of Georgians.... (more)
RELATED ARTICLES
Council Of Europe Head 'Concerned' About Reports Of Russian Sanctions
'No Time To Send Ambiguous Messages'
Ethnic Russians Feel Insulated From Tensions
Explaining West's Muted Response To Crisis
MORE: Coverage of the situation in Georgian from RFE/RL's Georgian Service and in Russian from RFE/RL's Russian Service.
ARCHIVE
RFE/RL's English-language coverage of
Georgia
and
Russia
.