The declaration has increased tension in the escalating conflict between Tbilisi and Moscow, which strongly denies the attack.
The United States and the Organization for Security and Cooperation in Europe (OSCE) have urged both sides to exercise calm.
Georgia has said it has proof that Russian jets violated the country's air space on August 6.
Georgia's Foreign Ministry said in a statement that its radar showed that two Russian Su-24 jets flew from Russia to Georgia, and fired a missile, identified by Tbilisi as a Russian-made Raduga Kh-58.
"Significantly, we have also obtained data from civil aviation radar stations, and it coincided with the radar data we had obtained from the Ministry of Defense. So, this strengthens our argument even more -- that this fact really took place, the planes did enter from the north," Georgian Foreign Minister Gela Bezhuashvili said today.
U.S. Assistant Secretary of State for Europe and Eurasia Daniel Fried said today Georgia has presented Washington with evidence that appears to support Tblisi's claim that its airspace was violated this week by foreign aircraft.

However, in a telephone interview today with RFE/RL's Azerbaijani Service, did not explicitly blame the alleged violation on Russia. "We are very concerned, in fact, we condemned this attack. We have been in close touch with the Georgian government, which has shown us the evidence it has," he said. "The evidence seems to show that there was an overflight, an incursion."
"If any side makes such accusations, there should be evidence provided to support them. No such evidence has been provided yet." -- Deputy Commander of the Russian Air Force Anatoly Nagovitsyn
President Saakashvili on August 7 visited the site near the village of Tsitelubani, a few kilometers from Georgia's separatist region of South Ossetia.
In comments to Reuters, Saakashvili called on the international community to help "stop" those behind the strike.
"This [incident], and I think that everybody realizes this is a part of one chain -- cyberattack on Estonia, bombing of Georgian territory in March -- [has not been] really followed up by a strong response from the international community.... So you know, we all should stop them [while] it's not too late," Saakashvili said.
Russian Denials
The Russian Foreign Ministry on August 7 issued a statement "categorically" denying the allegations and suggesting Georgia fired the missile on its own territory to provoke tensions in South Ossetia, where separatists enjoy Russian support.
Georgian officials have accused Russia of carrying out air strikes before.
In March, Tbilisi claimed Russian helicopters fired inside Georgia's upper Kodori Gorge, in the breakaway region of Abkhazia. Russia has denied the attack and said it was carried out by Georgia. A recent UN report on the incident said it was not clear who fired the shots.
The deputy commander of the Russian Air Force, Anatoly Nagovitsyn, said Georgia has no evidence this latest missile was fired by Russia.
"If any side makes such accusations, there should be evidence provided to support them. No such evidence has been provided yet. The Russian side affirms that we did not organize or plan any such actions or flights," Nagovitsyn said.
But Tbilisi says Russia's involvement is beyond doubt.
Photographic Data
Georgian officials have led Western diplomats on a tour of the site and also handed photographs and radar data to the OSCE.
Georgian Deputy Defense Minister Batu Kutelia told RFE/RL's Georgian Service that the facts are irrefutable.
"We have technical data from radars monitoring our airspace. I'd like to note that our radars now monitor all of Georgia's airspace and detect all flying objects that appear on Georgian territory, identifying those objects, detecting their speed and trajectory," Kutelia said.
The deepening row has increased tension in the already rocky relationship between the two former Soviet neighbors. It has also raised concern abroad.
U.S. Deputy Assistant Secretary of State for European Affairs Matthew Bryza on August 7 strongly rejected Russia's suggestion that Georgia could have staged the attack. He urged Moscow to "keep the rhetoric in check."
The OSCE chairman-in-office, Spanish Foreign Minister Miguel Angel Moratinos, also voiced concern and urged restraint on both sides. He said the OSCE is "very carefully" following developments.
Georgia's Road To The West
Georgia's Road To The West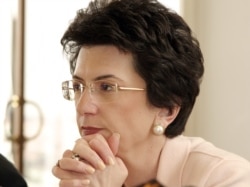 Georgian parliament speaker Nino Burjanadze giving a presentation at RFE/RL's Prague broadcasting center (RFE/RL)
BETWEEN RUSSIA AND THE WEST: Georgian parliament speaker Nino Burjanadze told an RFE/RL briefing that her country is under intense pressure from Russia.
LISTEN
Listen to the entire briefing (about 55 minutes):

Real Audio
Windows Media
RELATED ARTICLES
Georgian Speaker Reflects On Regional Relations
Is Putin's CFE Threat Aimed At The Caucasus?
EU Envoy Touts Georgian Confidence-Building Measures
SUBSCRIBE
For weekly news and in-depth analysis on Armenia, Azerbaijan, Georgia, and Russia's North Caucasus by e-mail,
subscribe to "RFE/RL Caucasus Report."