Some 700 tribal leaders from the restive mountainous border areas of Afghanistan and Pakistan are scheduled to start talks on August 9 under a giant tent in Kabul.
They are expected to discuss ways to control crossborder infiltration by militants and how to work together against the Taliban and Al-Qaeda fighters.
Pakistan's delegation was to be led by Pakistani President Pervez Musharraf. But the Foreign Ministry in Islamabad later said Musharraf has telephoned Afghan President Hamid Karzai to say he would send Prime Minister Shaukat Aziz instead.
Afghan Foreign Ministry spokesman Sultan Ahmad Bahin told RFE/RL's Radio Free Afghanistan that Kabul has high hopes about the gathering.
"What is very important is that for the first time there is an opportunity for the people and representative of both countries to sit and talk about peace and stability issues in Afghanistan and in the region -- and [also] fighting terrorism and preventing actions by terrorists, mainly in border regions," Bahin said.
However, on August 6, tribal elders from Pakistan's volatile North Waziristan tribal area said they will not go to Kabul for the assembly.
Mamur Khan, chief of North Waziristan's Wazir Turikhel tribe, said the absence of Taliban representatives would make the assembly pointless.
Some tribal leaders also had demanded that Pakistan withdraw troops from checkpoints in North Waziristan as a precondition for participation in the assembly.
(with material from agency reports)
Tribal Trouble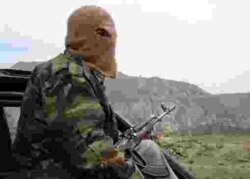 A Pakistani tribesman patrols near Wana in South Waziristan (AFP)
NO MAN'S LAND.
Fighting erupted in March involving tribesmen in Pakistan's fiercely independent western regions, where reports suggest locally backed offensives targetted Uzbek and other foreign Taliban sympathizers.
RELATED ARTICLES
Pakistan: Crackdown Could Pose Threat To Central Asia
Central Asia: Has IMU Reached The End Of The Line?
SUBSCRIBE
For regular news and analysis on Afghanistan by e-mail,
subscribe to "RFE/RL Afghanistan Report."