Earlier, Information Minister Tariq Azim Khan said President General Pervez Musharraf was considering imposing a state of emergency in the country.
Musharraf on August 8 abruptly pulled out of an Afghan-Pakistan tribal assembly in Kabul aimed at ending Taliban-linked terrorism. Officials cited external and internal threats to Pakistan as the reason for Musharraf's abrupt cancellation, prompting speculation about a pending emergency declaration.
Heavy Security
Overnight in the Pakistani capital, Islamabad, heavy contingents of security forces were reported to have taken up strategic positions, and intelligence services were reportedly on standby.

Pakistan has been facing increasing incidents of violence in recent months, which has tended to undermine Musharraf's leadership.
A state of emergency would "give extraordinary executive powers to the government to control political dissent."
The army's storming of the Red Mosque in Islamabad last month brought the deaths of scores of militant Muslims, leading to predictions that radicals could stage an uprising against the government.
Lahore-based political consultant Rizvi Hasan-Askari told RFE/RL the handling of the mosque shootout has impacted Musharraf's popularity among many Muslims, including both hard-line and moderate groups.
"The negative fallout for Musharraf is that whereas before, some Islamic groups and elements were still sympathetic toward him, now almost all of them have turned against the government," Hasan-Askari said.
There is also the deteriorating security situation in the northwest frontier tribal region bordering Afghanistan, an area thought to be a haven for Al-Qaeda leaders and Taliban guerrillas.
The army's attempt to clean up the area -- partly to appease the United States, which says not enough is being done to stem terrorist activity there -- has led to deadly clashes with no clear result.
Drive To Stay In Office
In a personal setback to Musharraf, Pakistan's Chief Justice Iftikhar Mohammad Chaudhry was reinstated to his job amid mass protests against Musharraf's attempts to sack him from the Supreme Court.
Chaudhry is an opponent on constitutional grounds of Musharraf's ambition to win another five-year term of office while remaining army chief.
In fact, there is a widespread opinion that Musharraf is being driven more by the desire to stay in office than by his fears for the country's stability.
"A state of emergency makes no difference to controlling the Taliban in the tribal areas," analyst Hasan-Askari said. "Emergency rule has implications for the secured areas of Pakistan, where a lot of anti-Musharraf political activity goes on. The emergency gives extraordinary executive powers to the government, to control political dissent."
It would allow the president to limit the role of the judiciary, curtail civil liberties, and restrict freedom of expression and movement, among other things.
With the presidential election set to take place over the period of a month from September 15 to October 15, Musharraf may see a clear advantage in curbing opportunities for the opposition against him to grow.
The election is through an electoral college of the upper and lower houses of parliament, plus the provincial assemblies. Musharraf is seen as having enough votes in the electoral college to renew his mandate, and he could remain the head of the army under a constitutional amendment which remains valid until November.

Afghanistan And Pakistan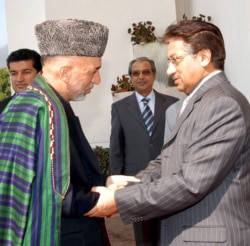 Afghan President Hamid Karzai (left) with Pakistani President Pervez Musharraf in Islamabad in October 2005 (epa)

ACROSS A DIFFICULT BORDER. The contested border between Pakistan and Afghanistan is some 2,500 kilometers long and runs through some of the most rugged, inhospitable territory on Earth. Controlling that border and preventing Taliban militants from using Pakistan as a staging ground for attacks in Afghanistan is an essential part of the U.S.-led international coalition's strategy for stabilizing Afghanistan. Officials in Kabul have been pointing their fingers at Pakistan for some time, accusing Islamabad or intelligence services of turning a blind eye to cross-border terrorism targeting the Afghan central government. Many observers remain convinced that much of the former Taliban regime's leadership -- along with leaders of Al-Qaeda -- are operating in the lawless Afghan-Pakistani border region.... (more)
RELATED ARTICLES
Pakistan-Afghanistan Conflicts Continue
Karzai, Musharraf Spar Ahead Of Bush Meeting
Musharraf Says Taliban Could Spark Pashtun 'National War'
Afghan Minister Attacks Pakistani Support For 'Terrorism'
Historical Context Of Afghan-Pakistani Relations
Afghanistan/Pakistan: 'Inseparable Twins' In Need Of Separation
ARCHIVE
RFE/RL
coverage of Afghanistan
. RFE/RL
coverage of Pakistan
.
SUBSCRIBE
For weekly news and analysis on Afghanistan by e-mail,
subscribe to "RFE/RL Afghanistan Report."