Musharraf Agrees 'In Principle' To Address Tribal Assembly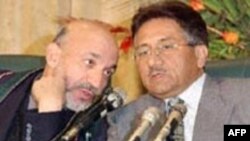 President Pervez Musharraf (right) was phoned by Afghan President Hamid Karzai (left) ( Greenpeace/Knoth) August 10, 2007 -- Pakistan's Foreign Ministry announced today that President Pervez Musharraf has agreed "in principle" to address the closing session of the joint Afghan-Pakistan "Peace Jirga" -- or tribal assembly.
Musharraf made his decision after Afghan President Hamid Karzai telephoned him today.
The meeting in Kabul of some 700 tribal leaders, who are seeking to find ways of ending Taliban and Al-Qaeda violence, enters its third day tomorrow.
The assembly is scheduled to conclude on Sunday. Musharraf was originally due to address the opening session yesterday but cancelled.
(AP, AFP)