Musharraf was addressing some 700 delegates at the final session of a joint Afghan-Pakistani tribal assembly in Kabul, following talks with Afghan President Hamid Karzai.
The Pakistani leader called upon the two countries to "develop trust" and to form a united front against Islamic militants.
Karzai responded Musharraf's speech by saying that Pakistan has Afghanistan's trust.
"Pakistan's President made his speech and called for trust. Afghanistan will, with out any doubt, trust its dear brother country and thank Pakistan for its hospitality to Afghan refugees during the past thirty years," Karzai said.
The three-day "Joint Peace Jirga" focused on ways to control cross-border infiltration by militants and how to work together against the Taliban and Al-Qaeda.
A joint declaration was distributed today to participants, calling for measures against terrorism, including rooting out militant training grounds, and for the establishment of a council to push for closer cooperation between the countries.
(with agency reports)

Madrasahs And Tolerance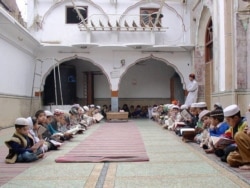 Students at a madrasah in Peshawar, Pakistan (epa file photo)

INSIDE THE MADRASAHS. The role of the traditional Islamic school, or madrasah, is being increasingly discussed. Many in the West and in the Muslim world have criticized some madrasahs for teaching intolerance and even violence...(more)
RELATED ARTICLES
Pakistan Madrasahs Reject Government Crackdown Efforts
Central Asian Madrasahs Lead Religious Teaching Revival
The Role Of Religion In Classrooms
Pakistan President Says Some Madrasahs Breed Terrorists
ARCHIVE
RFE/RL reporting on Afghanistan, Pakistan, Iraq, Iran, Tatarstan and Bashkortostan, and Central Asia.