The U.S. news agency AP quotes Taliban spokesman Qari Yusof Ahmadi as saying the militants will soon free the two reportedly ill hostages but said the timing of the release hasn't yet been decided.
The same spokesman is quoted by South Korea's Yonhap news agency as saying that the Taliban leadership decided not to free the women.
And on August 11, the Reuters and AFP news agencies quoted the same spokesman, Ahmadi, as saying the hostages had already been released.
The two hostages are among 21 South Korean hostages the Taliban is holding in Afghanistan. The group seized 23 South Koreans in July and has since killed two male hostages.
(AFP, AP, Reuters)

Suicide Attacks In Afghanistan
Suicide Attacks In Afghanistan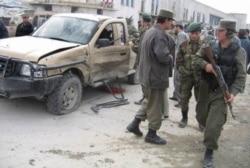 The results of a suicide-bomb attack in Kandahar Province on January 16 (epa)
Suicide bombers have struck more than two dozen times in Afghanistan since neo-Taliban and Al-Qaeda insurgents appear to have stepped up use of such attacks following the provincial and national elections of September 2005. While sporadic until recent months, suicide bombings have killed at least 90 people in Afghanistan since late 2001 -- including the attack in the days leading up to 9/11 that left legendary Afghan mujahedin commander Ahmad Shah Mas'ud dead. For an overview of suicide attacks in Afghanistan dating back to 2001, click here.