Musharraf was speaking at the closing session of the first "Joint Peace Jirga," involving both countries, that has focused on ways to control cross-border infiltration by militants and how to work together against the Taliban and Al-Qaeda. The assembly ended today with a call for cooperation to end the Taliban-fuelled violence that plagues both countries.
Musharraf addressed the assembly after holding talks with Afghan President Hamid Karzai.
Musharraf pulled out of the opening session on August 9 because of security related domestic issues, instead sending Prime Minister Shaukat Aziz.
Agencies report that the Pakistani leader decided to attend the assembly following a phone conversation with U.S. Secretary of State Condoleezza Rice.
Musharraf said today in Kabul that along with Afghanistan, Pakistan has also witnessed "the rise of militancy and violence". He then added that the two countries cannot remain mired in the past.
He also said Pakistan and Afghanistan should cease feuding and form a united front against the Taliban insurgents. Musharraf who made his speech in Urdu and English said the destinies of the two countries are intertwined. "Our people are bound by ties of common fate," he said.
Last week at the opening of the Joint Peace Jirga, Karzai also said both Afghanistan and Pakistan could defeat Al-Qaeda and the Taliban if they work together.
Yet despite such comments Radio Free Afghanistan's correspondent in Kabul, Breshna Nazari, says some observers are casting doubts over the results of the assembly.
"Government newspapers express optimism about the results of the Jirga and also decision made there," Nazari said.
"At the same time independent newspapers published in Kabul are expressing doubt and skepticism over the Jirga's decision, most newspapers say even though the decisions in the Jirga are made by the head of the Afghan and Pakistani tribes, they emphasize that there should be guarantees that the jirga's decisions will be enforced and this should be done by Afghan and Pakistani officials," Nazari added.
The jirga delegates today unanimously declared "an extended, tireless and persistent campaign against terrorism" and pledged the "governments and people of Afghanistan and Pakistan would not allow sanctuaries or training centers for terrorists in their respective countries".
A final declaration released today at the end of the four-day assembly calls for the elimination of terrorism and the establishment of a council to push for closer cooperation between the two countries.
The declaration says that terrorism is a "common threat" to both countries and the war on terror should continue to be an integral part of the national policies and security strategies of both countries.
Relations between Afghanistan and Pakistan have deteriorated over the past year, with Afghan officials accusing Pakistan of harboring Taliban and Al-Qaeda fighters.
Islamabad denies the charge and says it is battling militants in its tribal areas. Islamabad also points to the arrest of several senior Al-Qaeda leaders in Pakistan.
Afghan President Karzai said today that the jirga ended " with good results, achievements, and a message for both countries."
Another similar meeting is to be held in Pakistan at an unspecified date.
(with material from agency reports)
Afghanistan And Pakistan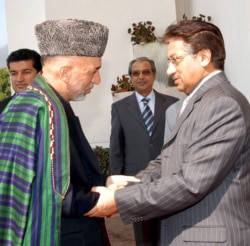 Afghan President Hamid Karzai (left) with Pakistani President Pervez Musharraf in Islamabad in October 2005 (epa)

ACROSS A DIFFICULT BORDER. The contested border between Pakistan and Afghanistan is some 2,500 kilometers long and runs through some of the most rugged, inhospitable territory on Earth. Controlling that border and preventing Taliban militants from using Pakistan as a staging ground for attacks in Afghanistan is an essential part of the U.S.-led international coalition's strategy for stabilizing Afghanistan. Officials in Kabul have been pointing their fingers at Pakistan for some time, accusing Islamabad or intelligence services of turning a blind eye to cross-border terrorism targeting the Afghan central government. Many observers remain convinced that much of the former Taliban regime's leadership -- along with leaders of Al-Qaeda -- are operating in the lawless Afghan-Pakistani border region.... (more)
RELATED ARTICLES
Pakistan-Afghanistan Conflicts Continue
Karzai, Musharraf Spar Ahead Of Bush Meeting
Musharraf Says Taliban Could Spark Pashtun 'National War'
Afghan Minister Attacks Pakistani Support For 'Terrorism'
Historical Context Of Afghan-Pakistani Relations
Afghanistan/Pakistan: 'Inseparable Twins' In Need Of Separation
ARCHIVE
RFE/RL
coverage of Afghanistan
. RFE/RL
coverage of Pakistan
.
SUBSCRIBE
For weekly news and analysis on Afghanistan by e-mail,
subscribe to "RFE/RL Afghanistan Report."