RFE/RL: What strategies has the Health Ministry implemented to prevent the spread of HIV/AIDS in Afghanistan?
Mohammad Amin Fatemi: Firstly, two years ago, we established a department called the Department of AIDS Control. This department has been working since then, especially under the provision of Afghanistan's National Development Strategy. A five-year approach called the "National Strategy for AIDS Control" was created, and it will be working on the issue until 2010. This strategy includes some key elements for the prevention of AIDS in Afghanistan. This includes strengthening the country's system for AIDS detection, obtaining political commitments to fulfill this strategy, creating a good coordination system, and raising local awareness regarding AIDS and other sexually transmitted diseases -- especially in remote areas where people lack health and medical services.
RFE/RL: To what extent has this strategy been successful?
Fatemi: I must say that this strategy has been very successful. By conducting this strategy, we can persuade donor countries and the international community to provide us with financial support. We need some $38 million for our five-year strategy. Through a formal letter, the World Bank has been the first donor and has committed to give $10 million to the (Afghan) Health Ministry for this purpose. The World Health Organization also has committed to provide us with about $1 million; and France will help us with $200,000. Since we need more than $30 million, we have requested additional funds of $11 million from The Global Fund [to fight AIDS, Tuberculosis, and Malaria, or GFATM]. In response to this request, The Global Fund has said it will give us an answer in November. And, fortunately, the Asian Development Bank has pledged $1.5 million.
I can estimate that somewhere between 2,000 and 3,000 people [are infected]. Most of them are among refugees returning home from Iran or Pakistan.
RFE/RL: Have you conducted any surveys yet to discover how many people in Afghanistan are infected with the HIV virus that causes AIDS?
Fatemi: So far, 245 positive cases have been found.
RFE/RL: Some reports claim that the number of people infected with AIDS in Afghanistan is far greater than the figures provided in official reports. How do you respond to such claims?
Fatemi: It is exactly true. The international organizations -- including the World Bank, the World Health Organization, donor countries, and other [Health] ministry partners -- estimate that the number of people infected with AIDS is between 1,000 and 2,000. But as a health official, I can estimate that this number is even higher -- somewhere between 2,000 and 3,000 people. Most of them are among [Afghan] refugees returning home from Iran or Pakistan. There are also other reasons that explain why the number of infected people remains high and yet hidden. Many people don't want to share information about a very simple sexually transmitted or related disease with a doctor or even with members of their family.
RFE/RL: How big is the danger of an even greater increase in the number of cases of HIV/AIDS in Afghanistan?
Fatemi: As the person responsible for health issues in Afghanistan, and as a person who has been working in this area for a long time, I must say that it would have been a great challenge -- and a warning sign for me -- if there were only one reported case of AIDS in Afghanistan. Now there are more than 200 positive cases of the disease in the country. We must consider it as a serious and alarming challenge. Nearly 60 percent of those infected are drug addicts. And, unfortunately, poppy cultivation and drug smuggling are still a big problem in Afghanistan. Likewise, unemployment and poverty are challenges ahead of us. So what is important is that we have to work in order to develop both the economic and social situations in our country. If we spend the $38 million during our five-year program the right way, the proportion of HIV/AIDS cases need not be higher than 0.5 percent of the whole population.
Afghanistan's Opium Problem
Afghanistan's Opium Problem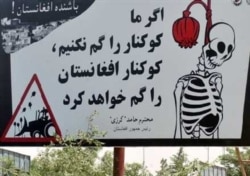 An antidrug billboard in Kabul shows a skeleton hanging from an opium bulb (AFP)
OPIUM FARMING ON THE RISE Despite a nationwide program by the Afghan government to eradicate opium-poppy fields and offer farmers alternative crops, international experts say that the 2006 opium crop was as much as 50 percent larger than the previous year's record crop. Afghanistan also accounted for practically all of the world's illegal opium production.(more)
RELATED ARTICLES
NATO Struggles With Security, Rebuilding In Southern Province
UN Antidrug Chief Wants NATO To Destroy Opium
Saffron Could Help Wean Farmers Off Opium Poppies
Poppy-Eradication Drive Launched In Western Province
Insurgency Gains Ground As Poppy-Eradication Efforts Struggle
SUBSCRIBE
For weekly news and analysis on Afghanistan by e-mail,
subscribe to "RFE/RL Afghanistan Report."