Exiled Former Pakistani PM To Return Home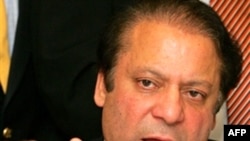 Nawaz Sharif is currently staying in London (file) (AFP) August 23, 2007 -- Pakistan's exiled former prime minister, Nawaz Sharif, says he will return to Pakistan "as soon as possible" to try to oust President Pervez Musharraf from office.
Sharif spoke shortly after Pakistan's Supreme Court ruled he could return home after seven years in exile.
Sharif was overthrown in October 1999 in a coup led by Musharraf.
Chief Justice Iftikhar Mohammed Chaudhry told the court that Sharif and his family "have an inalienable right to enter and remain in the country as citizens of Pakistan."
Chaudhry himself was reinstated last month after Musharraf lost a two-month battle to oust him.
Both Sharif and another former prime minister, Benazir Bhutto, have said they intend to contest forthcoming general elections due by early next year.
(AP, AFP, Reuters)
FURTHER READING
Secret Talks

In July, Musharraf met another exiled former prime minister, Benazir Bhutto

more

Earlier Setback

Pakistan's Supreme Court in July reinstated the country's chief justice, suspended by Musharraf.

more