Chief military spokesman Major General Wahid Arshad said that "the first phase of flushing out and clearing the area of militants is over."
He said troops were now combing the area to clear it of unexploded grenades and booby-traps, and to remove bodies.
It remains unclear how many people were killed during the eight-day standoff. Officials earlier said the fighting left more than 80 people dead, most of them militants, but it was not clear whether that was the final death toll.
Musharraf has attempted to reform the country's most radical madrasahs in recent years, but the move has stalled amid opposition from hard-line clerics.
President Pervez Musharraf ordered the assault on the mosque after failed talks with the leader of the besieged militants, hardline cleric Abdul Rashid Ghazi. Ghazi was shot dead in fighting on July 10.
Hostages' Fate
Questioned today by journalists about the fate of women and children that the government has described as hostages in the complex, Arshad said that some hostages had been killed as Ghazi made his last stand. But he says it is too early to confirm how many of the dead were supporters of the militants and how many were hostages.
"Women and children were there who were being held inside the complex. And [on July 10], 27 women and three children were brought out of the complex," Arshad said. "As far as other hostages are concerned, there were people who were killed in the operation which was launched yesterday to clear basement areas. And they were killed [along with] Ghazi Rashid. There were [hostages] who were killed in that operation."
Meanwhile, as smoke from today's operations drifted across the heart of Islamabad, relatives of young students at the madrasah waited anxiously outside the compound.
One man who gave his name only as Kifayatullah spent the night near the compound in the hope of learning about the fate of his cousin.
"I am searching for my cousin, Rashid Ahmed, who was a student here," Kifayatullah said.
Some of the relatives expressed support for Ghazi, saying they were sad and angry about his death. Among them was Khalida Begum, the aunt of a young girl whose fate remains unknown.
"We have heard the news [of Ghazi's death] and we are extremely upset. [Ghazi] has been martyred and our religion is poorer," the woman said. "Our child's disappearance did not sadden us as much as the loss of [Ghazi]."
Longer-Term Effects
Analysts predict that the killing of scores of Islamist militants on June 10 in the assault could trigger a violent backlash against Musharraf's already embattled government. But experts also say -- depending on the government's approach to other radical madrasahs -- the assault could help curb a growing wave of Islamic radicalism in Pakistan.
Musharraf has attempted to reform the country's most radical madrasahs in recent years, but the move has stalled amid opposition from hard-line clerics.
One member of that opposition is Sami-ul-Haq -- a lawmaker in Pakistan's upper legislature and leader of Dar-ul-uloom e Haqania -- an alliance of conservative clerics.
Ul-Haq told RFE/RL's Radio Free Afghanistan that the killing of Ghazi will have negative consequences. He said there will be violent reactions if Musharraf continues to deal strictly with madrasahs.
"They didn't have to destroy this madrasah [at the Red Mosque], because it is not the only madrasahs and [closing madrasahs] won't resolve anything," ul-Haq said. "We have more than 100,000 madrasahs in Pakistan. They can't punish many madrasahs because of the carelessness of one person. And they can't make [Ghazi] a face that represents all of religious society in Pakistan. He is only one person. The government of Pakistan, by destroying this madrasah, has damaged its own image."
Mehmood Shah, a former security chief in Pakistan's northwestern tribal areas, said he thinks militants will try to carry out retaliatory attacks in Pakistan during the coming days.
But he said the assault has sent a strong message to militants and will discourage parents from sending their children to radical madrasahs where, in his words, "militancy is taught instead of religion."
(RFE/RL's Radio Free Afghanistan contributed to this story)
FURTHER READING
Creeping Unrest In Pakistan

Chatham House expert Farzana Shaikh says Islamabad is likely to become as dangerous as Pakistan's frontier provinces.

more

Musharraf's Uneasy Position

U.S. analyst Alexander Lennon says Pakistani President Pervez Musharraf's position is increasingly shaky, and that the military might step in to quell unrest.

more
Madrasahs And Tolerance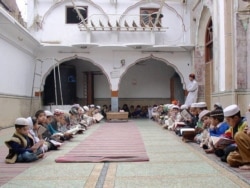 Students at a madrasah in Peshawar, Pakistan (epa file photo)

INSIDE THE MADRASAHS. The role of the traditional Islamic school, or madrasah, is being increasingly discussed. Many in the West and in the Muslim world have criticized some madrasahs for teaching intolerance and even violence...(more)
RELATED ARTICLES
Pakistan Madrasahs Reject Government Crackdown Efforts
Central Asian Madrasahs Lead Religious Teaching Revival
The Role Of Religion In Classrooms
Pakistan President Says Some Madrasahs Breed Terrorists
ARCHIVE
RFE/RL reporting on Afghanistan, Pakistan, Iraq, Iran, Tatarstan and Bashkortostan, and Central Asia.