Rompetrol Chairman Dinu Patriciu announced today that the company sold a 75-percent stake to Kazakhstan's KazMunaiGaz for $3.6 billion. According to Romanian media reports, the deal was signed on August 24.
Patriciu -- who is a member of Romania's governing Liberal Party and is close to Prime Minister Calin Popescu -- will continue to chair Rompetrol's board of directors, but KazMunaiGaz will appoint the majority of the board's members.
The European Commission must approve the deal before it becomes final.
Ilie Serbanescu, a Romanian economist who was the country's reforms minister in 1999, told RFE/RL's Romania-Moldova Service that the price KazMunaiGaz is paying for Rompetrol is fair.
Serbanescu added, however, that the deal places too much of the country's energy sector under the control of foreign companies:
"Under these conditions, Rompetrol will become a vehicle for large state-owned companies from the former USSR who want to gain access to Western oil and gas markets," Serbanescu said. "Their main goal is to get into the distribution sector."
Austria's OMV is the only other oil company working in Romania.
KazMunaiGaz is a rapidly expanding and vertically integrated state-owned company that is aggressively seeking assets in Western markets.
Exporting Kazakhstan's Energy
Exporting Kazakhstan's Energy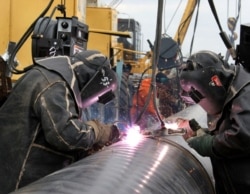 Work on a Kazakh pipeline (TASS file photo)


PRESSURE FROM THE KREMLIN? Columbia University political science professor Kimberly Marten told an RFE/RL briefing that Russia seems to be using its control of gas pipelines in the former Soviet Union to pursue its goals in Kazakhstan.
LISTEN
Listen to the entire briefing (about 60 minutes):

Real Audio
Windows Media
RELATED ARTICLES
The Emerging Post-Soviet Petrostates
Nazarbaev, Merkel Discuss Energy, Bilateral Ties
Nazarbaev Talking Energy, Economic Cooperation On China Visit
ARCHIVE
RFE/RL's coverage of
Kazakhstan
.