Speaking at a European Parliament hearing on the human-rights aspects of the EU's Neighborhood Policy (ENP), senior European Commission official Rutger Wissels said the deteriorating human-rights situation in Azerbaijan is "not acceptable" for the EU.
Wissels said the "negative trend" in Azerbaijan "runs counter to the spirit and purpose of the ENP Action Plan with Azerbaijan, which contains precise commitments concerning human rights, including in the field of media freedom."
Azerbaijan's ambassador to the EU, Emin Eyyubov, parried the charges, saying improving human-rights observance is his government's "utmost priority."
Eyyubov blamed a "lack of professional ethics" among journalists, but also the weakness and inexperience of Azerbaijan's institutions.
EU deputies asked Eyyubov about the progress of an inquiry into the murder of the journalist Elmar Huseynov in 2005. Eyyubov said the authorities are working to solve it.
Rosa Balfour, an analyst with the Center for International Policy Studies in Rome, said the ENP lacks bite in the area of human rights, because partner governments see it as optional.
"The European Neighborhood Policy...does have the potential to improve the EU's ability to promote some principles that are related to human rights and democracy," Balfour said. "However, one has to be clear that this is likely to happen only in the cases the partner governments are interested in the incentives the EU is offering at the moment."
Balfour said the EU only offers "positive conditions" such as trade benefits, but remains unable to sanction countries which ignore its rights agenda.
The ENP's stated objective is to facilitate economic integration and good relations with the enlarged EU's immediate neighbors.

Human Rights In Azerbaijan
Human Rights In Azerbaijan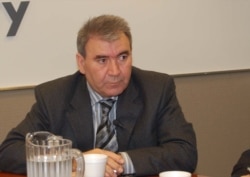 Azerbaijani parliamentarian and historian Jamil Hasanli speaking at RFE/RL on November 29 (RFE/RL)

THE CURSE OF OIL. On November 29, RFE/RL's Washington office hosted a briefing on democratic development in Azerbaijan. The briefing featured liberal opposition lawmaker Jamil Hasanli and former political prisoner and activist Murad Sadaddinov. The two men discussed the international commitments Azerbaijan has made in the area of human rights in order to secure investment in its energy sector and offer advice as to how the international community should deal with Baku.
LISTEN
Listen to the entire briefing (about 90 minutes):

Real Audio
Windows Media
RELATED ARTICLES
Authorities Intensify Pressure On Independent Media
Azerbaijan: Coping With The Oil Windfall
EU Taking Note Of Baku's Strength
Azeri Journalist's Prison Sentence Denounced As Political
ARCHIVE
RFE/RL's English-language coverage of
Azerbaijan
.
SUBSCRIBE
For a regular review of civil-society developments throughout RFE/RL's broadcast region,
subscribe to "RFE/RL (Un)Civil Societies."