Militants Free 19 Hostages In Pakistan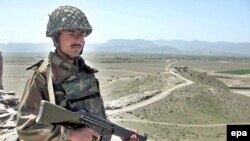 South Waziristan is a stronghold of pro-Taliban militants in Pakistan's border region (file) (epa) August 28, 2007 -- Officials in Pakistan say pro-Taliban militants have released 18 soldiers and a government official captured near the Afghan border earlier this month.
Sixteen soldiers were abducted August 9 in the South Waziristan region. One was later beheaded and his body dumped in a soccer field.
The other freed men were three soldiers and a security official abducted in the same region last week.
(Reuters, AP)