The country's surging drug output appears not to be destined for the markets of Europe and North America, but instead for Afghanistan's neighbors. Observers warn that the trend threatens to pull neighboring states into the vicious cycle of drug dependence.
Most of the illegal opiates comes from southern and eastern Afghanistan, particularly Helmand Province, where the Taliban militia insurgency is at its worst.
UNODC director Antonio Maria Costa notes that the Taliban has reversed its religious edict of July 2000, which banned poppy cultivation, and is now profiting from the drug trade.
The level of opiate use in Uzbekistan, Kyrgyzstan, and Kazakhstan is about twice the global average. But the hardest-hit country is Russia.
Presenting the agency's report on the Afghan drug industry, Costa said in Kabul on August 27 that "what used to be considered a sin is now being encouraged."
"When there is violence, guerrillas, insurgency -- all of that creates a climate of lawlessness. The rule of law breaks down and criminal activity -- in the case of Afghanistan, opium cultivation...tends to flourish," Costa said.
Drugs Destined For Central Asia
Afghanistan is now the source of some 95 percent of the opiates reaching the big world markets, meaning mainly North America and Europe.
But UNODC researcher Tomas Pietschmann told RFE/RL's Uzbek Service that the rise in production has not been matched by a parallel increase in demand on the major world markets.
Pietschmann points out that the market for opiates in Western Europe is stable, or even declining, and is similarly stagnant in North America. So where is this massive new supply of opium going?
Experts don't rule out that growers, distributors, and dealers are stockpiling some of the surplus for future sale. After all, opium can be stored for 20 or 30 years without losing its potency.
But that wouldn't account for all the drug supplies. Pietschmann says Afghanistan's neighbors may account for increasing consumption, partly because the large-scale transit of drugs across their territories has already brought increased levels of local addiction:
In Uzbekistan, Pietschmann says, about 0.8 percent of the population aged between 15 and 64 use opiates -- about twice the global average, which is 0.4 percent. Kyrgyzstan's level of opiate use is the same, and Kazakhstan's stands at 1 percent.
Opiate usage is also seen to be rising in Iran and China, and lately there are indications that the same is true of India. But hardest-hit of all is Russia, where the UNODC estimates that up to 2 percent of the population uses opiates.
Pietschmann estimates that the real increase in consumption this year lies to the south, toward Pakistan and Iran. The increase is less dramatic "in the countries north of Afghanistan, simply because production has declined in northern Afghanistan," he said.
Farid Tukhbatullin, head of the Turkmen Initiative for Human Rights, described the increased opiate production as "bad news" for everyone -- particularly for Turkmenistan, because it has a very long border with Afghanistan.
In remarks to RFE/RL's Turkmen Service, Tukhbatullin noted that Turkmenistan is one of the transit states for Afghan drugs, both to the CIS countries and onward to Europe.
(RFE/RL's Uzbek Service correspondent Farruh Yusupov and Guvanch Gervaev of RFE/RL's Turkmen Service contributed to this report.)

Afghanistan's Opium Problem
Afghanistan's Opium Problem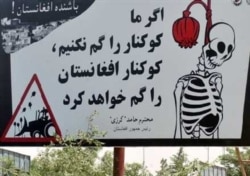 An antidrug billboard in Kabul shows a skeleton hanging from an opium bulb (AFP)
OPIUM FARMING ON THE RISE Despite a nationwide program by the Afghan government to eradicate opium-poppy fields and offer farmers alternative crops, international experts say that the 2006 opium crop was as much as 50 percent larger than the previous year's record crop. Afghanistan also accounted for practically all of the world's illegal opium production.(more)
RELATED ARTICLES
NATO Struggles With Security, Rebuilding In Southern Province
UN Antidrug Chief Wants NATO To Destroy Opium
Saffron Could Help Wean Farmers Off Opium Poppies
Poppy-Eradication Drive Launched In Western Province
Insurgency Gains Ground As Poppy-Eradication Efforts Struggle
SUBSCRIBE
For weekly news and analysis on Afghanistan by e-mail,
subscribe to "RFE/RL Afghanistan Report."