Russian Prosecutor-General Yury Chaika announced on August 27 that 10 people had been arrested in connection with the slaying of Anna Politkovskaya, an investigative journalist and fierce Kremlin critic who was murdered in Moscow in October 2006.
Chaika also suggested that those ultimately responsible for the crime were people based abroad who sought to discredit President Vladimir Putin and destabilize Russia.
Attorney Murad Musayev represents one of the three Moscow-based Chechen brothers arrested -- Tamerlan, Djabrail, and Ibragim Makhmudov. The attorney told RFE/RL's North Caucasus Service on August 28 that Chaika's announcement was little more than scare-mongering.
"The entire speech of the prosecutor-general resembled a certain collage of populist cliches -- sort of an essay that combined all the demons of Russia. Individuals from Chechnya, corrupt law-enforcement people, someone vicious and scary who is sitting abroad and contemplating a revolution in Russia, and so on," Musayev said.
Musayev was quoted this week on the kavkaz-uzel.ru website as saying that there is no evidence linking his client -- whom he has not identified specifically -- with the killing, and that his client did not even know who Politkovskaya was before his arrest.
The daily "Kommersant" on August 28 quoted Musayev as claiming his client had been repeatedly physically abused during questioning, including being hit in the head with a bottle.
Musayev also said the investigation has reportedly concluded that the three Chechens had no personal grievance against Politkovskaya, but simply agreed to kill her for "a large sum of money."
Following the Russian prosecutor-general's announcement, the United States urged the Russian authorities to push forward with the investigation.
State Department spokesman Tom Casey said any acts that appear aimed at intimidating journalists or limiting free expression should be of particular concern to any society.
Commemoration Planned
Meanwhile, supporters of Politkovskaya are planning a rally on August 30 to commemorate what would have been her 49th birthday.
Demonstrators are scheduled to gather at Moscow's Novopushkinskaya Square, and to deliver flowers to the house where Politkovskaya lived and was killed on October 7, 2006.
(compiled from agency reports)

Remembering Anna Politkovskaya
Remembering Anna Politkovskaya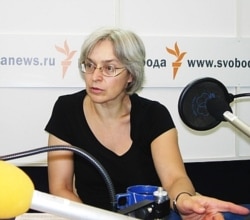 Anna Politkovskaya at RFE/RL in July 2006 (RFE/RL)
A BRAVE VOICE SILENCED. Prominent Russian journalist Anna Politkovskaya was killed on October 7 in her Moscow apartment building. An outspoken critic of the Kremlin, she was best-known for her reporting on the conflict in Chechnya. Former Soviet President Gorbachev called her slaying "a true political homicide, a vendetta."
Chechens Mourn Politkovskaya As 'Last Hope'
Politkovskaya Investigating Chechen Torture At Time Of Death
Two Journalists Die In Contract Killings A Year
SUBSCRIBE
For regular news and analysis on media issues throughout RFE/RL's broadcast area by e-mail,
subscribe to "RFE/RL Media Matters."