U.S. Report Says Iraqis Haven't Met Most Benchmarks
An extra 30,000 U.S. troops have been sent to iraq in recent months (file) (epa) WASHINGTON, September 5, 2007 (RFE/RL) -- A key U.S. report on Iraq paints a bleak picture of military and political progress there, despite the addition of 30,000 U.S. troops in recent months.
The independent report by the nonpartisan investigative arm of Congress -- the General Accounting Office (GAO) -- said the Iraqi government has only fully met three of 18 political and security benchmarks of progress Congress laid out last spring when it approved the latest round of funding for the war.
The report, the first of three this month on the Iraq war, was delivered to Congress on September 4, one day after President George W. Bush made a surprise visit to that country and told troops they might be able to start coming home soon if the situation continued to improve.
But the Congressional agency behind the report found that violence was increasing and political progress had stalled, which cast doubt on the president's assessment.
The plan to hold Prime Minister Nuri al-Maliki's government accountable for measurable benchmarks helped Bush win supporters for his decision earlier this year to send 30,000 additional troops to Iraq.
That surge's success was on trial as the GAO report got a public hearing on Capitol Hill before the Senate Foreign Relations Committee.
"It is inescapable and unavoidable to ignore the bottom-line conclusion of your report, which says that the Iraqi government has met three, partially met four, and did not meet 11 of its 18 benchmarks," Democratic Senator John Kerry told the report's lead author, GAO Comptroller General David Walker. "Overall, key legislation has not been passed, violence remains high, it remains unclear whether the Iraqi government will spend ten billion dollars in reconstruction funds. In other words, only three of these 18 benchmarks have actually been met."
Surge Strategy Questioned
According to the report, the three benchmarks al-Maliki has met are the establishment of political committees to support the Baghdad Security Plan, the creation of neighborhood security stations throughout the capital, and the protection of the rights of minority political parties in government.
Among the government's key failures, however, are:
-- no reduction in sectarian violence
-- no disarmament of the militias
-- no national oil revenue-sharing law
-- no increase in the number of Iraqi security forces able to operate independently
-- no legislation on de-Baathification.
There are now 160,000 U.S. troops in the country -- the most since the war began in 2003. Kerry said the lack of progress cast doubt on the wisdom of Bush's decision to send more troops:
"The fundamental purpose of the surge was to give the Iraqi government breathing room to make the decisions necessary, to be able to achieve the benchmarks," Kerry said. "And when we see after its full implementation those benchmarks are as far from being reached as they are, it is hard to draw any assessment except that there is a failing grade for a policy that is still not working."
Walker told the committee that the benchmarks measured progress in economic, political, and security terms, but that the least amount of progress had been made on the political front.
On the question of where the security situation stands, Walker pointed to the Al-Anbar Governorate as the clearest success but said it was not necessarily representative of the rest of the country:
"There's no question there's been progress in Anbar Province," Walker said. "But Anbar Province is not Baghdad. And Anbar Province is not representative of other provinces in Iraq. It's Sunni dominated. The issues there are primarily dealing with Al-Qaeda and primarily Sunni on Sunni challenges there. But there's no question there's been progress there. The question is: which of that is transferable?"
And in response to a senator's question about whether Iraqi security forces are able to hold and secure neighborhoods that have been cleared of insurgents by U.S. forces, the GAO chief said he had his doubts.
"There's a significant question as to whether or not Iraqi security forces will be able to maintain the safety and security in these areas absent direct U.S. troop involvement because, as we all know, most Iraqi security forces require significant support from the United States in the form of logistics, in the form of intelligence, and other types of activities," he said.
Not The Full Picture?
In July, the White House released its own assessment of the same set of benchmarks the GAO looked at. It gave "satisfactory" marks to eight and said two had mixed results. No criteria were given, which led critics to call the assessment vague.
In its report, the GAO looked closely at factors within each benchmark. For example, Bush said Iraqi politicians had made satisfactory progress in reviewing its constitution, whereas the GAO ruled they had failed because the process was not complete. Bush said there were three satisfactory Iraqi brigades, but the GAO questioned whether its members were still loyal to militias and actually showed up for work.
But at today's hearing, the ranking Republican committee member, Richard Lugar, asked whether too much emphasis was being placed on the idea of meeting benchmarks.
He cautioned against judging the troop surge a success or failure based on a random grade, saying the progress markers only told part of the story of what's happening in Iraq:
"For the most part benchmarks measure the official actions of Iraqi government leaders and the current status of Iraq`s political and economic rebuilding effort," Lugar said. "This is an important starting point. But pass or fail grades on a set of benchmarks are not necessarily predictive of ultimate success or failure."
The release of the GAO report marks the beginning of a critical test for Bush's war strategy and it is one of three assessments on the war that Congress will be getting this month.
Next week a retired general will deliver an assessment of the Iraqi security forces and then the top commander in Iraq, General David Petraeus, and U.S. Ambassador to Iraq Ryan Crocker will testify about their conclusions. Bush is set to deliver his own report to Congress by September 15.
Republicans have so far remained loyal to the president and prevented Democrats from gaining enough votes to cut off funding for the war, as many would like to. But with polls showing a nation eager to bring the troops home, and next fall's election campaign already underway, even the president's biggest defenders are hoping to see measurable success soon.
Searching For A Way Forward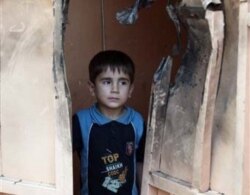 A boy looks out from his Baghdad home (AFP)
LOOKING BEYOND AL-MALIKI: RFE/RL Iraq analyst Kathleen Ridolfo led an RFE/RL briefing about the changing political landscape in Iraq, focusing on efforts to gain the upper hand in the event that the government of Prime Minister Nuri al-Maliki falls.
LISTEN
Listen to the entire briefing (about 70 minutes):

Real Audio
Windows Media
RELATED ARTICLES
Opposition Appears Set On Bringing Down Al-Maliki
Former Premier Pushing New Plan For Reconciliation
Al-Sadr Prepares For Post-Coalition Era
Sunni Ultimatum Rocks Al-Maliki's Position


THE COMPLETE STORY: RFE/RL's complete coverage of events in Iraq and that country's ongoing transition.