He stressed that Moscow is the diplomatic equal of Washington and sought to highlight differences between the United States and Western Europe, while paying lip service to the importance of some other countries and regional groupings in a "multipolar world."
Lavrov selectively quoted several prominent Western political figures -- mainly Americans and Germans -- as well as President Vladimir Putin in support of his points. In classical Soviet style, he suggested that Russia is an aggrieved party whose trust others must seek to win.
Russia 'Emancipated'
He stressed that Russia embraces the values of "democracy and the market" but did not mention the rule of law. He said that Russia has learned many lessons from its history and abandoned the "hostility and ideology" of the Cold War era. It is others who continue to view international affairs as a "zero-sum game," he maintained.
Lavrov warned outsiders against seeking to change Russian policies. He said that "with the end of the Cold War, we have acquired full freedom in dealing with our internal affairs...and strengthening our position in the world.... We act in a European way, from a position of a pluralistic political culture, which must by definition be tolerant of debates. Attempts at 'containing' and 'harassing' Russia hardly correspond to this culture."
He stressed that it is important instead "to build trust" and quoted German Chancellor Angela Merkel to the effect that trust takes a long time to develop but can be quickly destroyed. Lavrov noted that "we track the foreign media reaction to the swift revival of our country as a leading state in the world. We understand that certain political circles in the West were unprepared for such a course of events" and do not know how to respond.
But Russia, he argued, has "emancipated itself" from old doctrines. He quoted Egon Bahr, the leading foreign-policy thinker in Germany's Social Democratic Party (SPD), as saying that "Europeans" are now seeking to define their own interests and act on their analysis of what those interests are. Lavrov might have added that Bahr has suggested for years that "German interests" are distinct from and often in conflict with those of the United States.

'We Are Not Adversaries'
It is, in fact, Russian-U.S. relations that concern Lavrov most. He cites "our common responsibility for the maintenance of strategic stability" and adds that "globalization makes it necessary to create relations of positive interdependence."
He also offers some consolation to Washington, saying that "Russia can understand from its own experience what geopolitical solitude is and what it means [to a country] when, despite the best intentions in wanting to change the world, others either do not understand you or do not accept your methods." Lavrov stressed that "we are not adversaries with the United States. anymore, so there are no grounds for a new Cold War."
Lavrov criticized Britain for making a "propaganda show" of its demands for the extradition of Andrei Lugovoi, the prime suspect in the 2006 London poisoning death of former Russian security officer Aleksandr Litvinenko.
But in general, he had warm words for Europe, by which he seemed to mean some major countries of Western Europe. He suggested that "there are matters on which Europe is closer to the United States, but on a number of strategic issues it has more in common with Russia. Take the theme of use of force and other forms of coercion, and also its attitude toward international law."
Europe's Concerns
It is precisely because of EU concerns over international law and rules of behavior, however, that Putin's Russia has raised doubts in Europe about its reliability. European critics point to Russia's use of energy as a political weapon against several of its neighbors, its refusal to ratify the EU's Energy Charter treaty that it signed in 1994, its recent dispatch of a mission to plant a titanium Russian flag on the seabed at the North Pole, its recent resumption of strategic bomber flights, and the unexplained "cyberwar" against Estonia in April and May.
Nor does Lavrov mention that when the SPD-led German Foreign Ministry sought to draw Russia into a closely intertwined set of relationships with the EU during the German EU Presidency in the first half of 2007, Berlin found that Moscow was interested only in bilateral deals and asserting itself ever more strongly on the international stage.
Lavrov nonetheless cited Putin's February 10 speech in Munich as an example of evidence of Russia's interest in "concerted actions" with its foreign partners. But this was a speech that left Merkel and many of Putin's German hosts visibly displeased and prompted several Western observers to describe it as "a declaration of a new Cold War."
Lavrov suggested that "the part of the world customarily known as the Euro-Atlantic region [should] have a triple understanding, between the United States, Russia, and the European Union.... Such a 'troika' could 'steer the global boat into untroubled waters.'" He added that "perhaps it is time to think of a new definition of Atlanticism that does not exclude Russia" but did not elaborate.
Policy Of Division
The minister referred to a "common humanitarian space" among CIS countries. He also hailed the international roles of the Group of Eight (G8) industrialized countries and the five permanent members of the UN Security Council. Lavrov mentioned the possibility of a "concert of the powers of the 21st century...[to provide] leadership by the key states of the world," as well as "new, flexible forms of collective leadership" that include at least China, India, Brazil, Mexico, and South Africa.
He stressed nonetheless that there are "some red lines" in Russia's foreign policy. He said that Moscow is firmly opposed to U.S. plans to deploy parts of a missile-defense system in Poland and the Czech Republic and to any proposal on the final status of Kosovo that does not meet with Serbia's approval. He argued that "Russia does not bargain [on matters involving its vital interest], and our international partners must understand this."
Some Czech and Polish critics have pointed out, however, that Russia's position on missile defense is not aimed at cooperation but on sending notice to Prague and Warsaw that their relations with Washington are subject to Moscow's approval.
Germany's "Frankfurter Allgemeine Zeitung" has repeatedly made the point that Russia is trying to split both the EU and NATO with the missile-defense issue. As to Kosovo, "Nezavisimaya gazeta" argued on September 4 that Russian diplomacy has not offered any clear or constructive proposal to replace that of UN special envoy Martti Ahtisaari, which Russia and Serbia reject.
Moscow And Washington: Toe To Toe
Moscow And Washington: Toe To Toe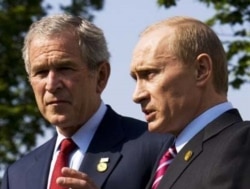 U.S. President George W. Bush (left) and Russian President Vladimir Putin at the G8 summit in Germany on June 7 (AFP)

MOUNTING TENSIONS. Relations between Russia and the United States have grown increasingly tense in recent months as issues like missile-defense, Kosovo's status, and Russia's domestic policies have provoked sharp, public differences. On June 5, U.S. President George W. Bush said democratic reforms in Russia have been "derailed"....(more)
RELATED ARTICLES
Silent Diplomacy Versus Public Criticism
Analysts Say New Arms Race Unlikely
Moscow's Patience With U.S., Allies 'Wearing Thin'
Russian Parliament Accuses U.S. Of Election Meddling
MORE: A special archive of RFE/RL's coverage of U.S.-Russian relations.