The UN estimates that more than 2.2 million Iraqis have fled the country, mostly to neighboring Jordan and Syria. In addition, there are another 2 million internally displaced persons (IDPs) within Iraq's borders.
While the continuing violence shows no signs of abating, it would be safe to assume that the number refugees and IDPs will continue to grow, worsening an already bleak situation.
New Syrian Visa Requirements
Since the Iraq conflict began and Iraqis began fleeing, Syria has been the only country not to impose strict regulations to limit the number of Iraqi refugees that can enter. Jordan, which hosts up to 750,000 Iraqis, has largely limited access to new arrivals.
Since the triple suicide bombing in Amman in November 2005 that killed 60 people, Iraqis seeking to enter Jordan now must be over 40 or under 20 and have sufficient funds to support themselves while staying in the kingdom.
According to UN figures, Syria is currently hosting 1.5 million Iraqi refugees and the Syrian government has indicated that between 30,000-60,000 Iraqis enter Syria every month. The sheer number of Iraqis has become a huge burden on the country's economy and infrastructure. Damascus has estimated that the refugees are costing the state approximately $1 billion a year.
This strain, coupled with the international community's failure to provide adequate financial assistance to Syria, has forced Damascus to take stringent measures to curtail the number of Iraqis pouring into the country. Currently, the country technically has an "open-door" policy that allows most Iraqis to easily enter Syria. Iraqis are initially granted a three-month visa that is easily renewable.
However, starting on September 10 a new visa system will be implemented that will grant visas only to Iraqis involved in the economic, commercial, and scientific sectors. These restrictions will almost certainly limit the number of Iraqis allowed in. Furthermore, the new documents will only be single-entry visas valid for three months and qualified Iraqis must obtain them from the Syrian Embassy in Baghdad.
The new visa requirement has created concern among human-rights groups and humanitarian agencies that Iraqis will be turned away if they do not have a visa or are unable meet the criteria to obtain the new documents. The UN High Commissioner for Refugees (UNHCR) has urged Damascus not to turn back desperate Iraqis who are fleeing to Syria to escape the violence.
Moreover, there are also concerns that those Iraqis that have the current renewable three-month visa will be forcibly expelled from Syria once their visas expire or if they try to renew them. The UNHCR said it has so far received assurances from Syrian officials that there would be no forced returns.
Poor Conditions At IDP Camps
Iraqis who have fled their homes but lack the financial means to leave the country are essentially trapped in overcrowded, makeshift refugee camps with poor sanitary conditions. The Iraqi government lacks the funds to provide adequate resources to assist those in the camps and the perilous security situation in many parts of Iraq has prevented international humanitarian organizations from reaching some camps.
According to the UNHCR, many of the camps are situated far from towns or cities, and residents have to search for sources of water. The Iraqi Aid Association, a local nongovernmental organization, received reports that peoples at camps in Ba'qubah and Al-Najaf resorted to taking water from nearby open sewage drains, using cloths to filter it, and then drinking the water without boiling it.
Poor sanitation can lead to outbreaks of waterborne diseases. The Kurdish-administered regions of northern Iraq declared a state of emergency after a cholera outbreak in Al-Sulaymaniyah and Kirkuk. Dr. Juan Abdallah, a senior official in Kurdistan's Health Ministry, said the outbreak was the first of its kind in nearly a decade and may have resulted from the poor sanitary conditions at IDP camps, IRIN reported on August 30.
"The bad sanitation in Iraq, especially on the outskirts of cities where IDPs are camped, has put people at serious risk," Abdallah said. "In Al- Sulaymaniyah and Kirkuk, at least 42 percent of the population has no access to clean water and proper sewage systems."
Some IDP camps have become so overcrowded, such as the Al-Manathera camp outside the holy city of Al-Najaf, that it had to declare itself closed to new arrivals in early August. Local officials said they had no choice, because the camp lacked the resources to assist new arrivals.
A recent announcement by the UNHCR on August 28 indicated that the number of Iraqis being driven from their homes due to violence is rising, to a monthly rate of over 60,000. These grim statistics indicate that more funds and resources are desperately needed to assist Iraqi refugees and IDPs.
While Jordan and Syria have taken in the largest amount of refugees, they have bitterly complained that their respective infrastructure and resources cannot maintain such a large population indefinitely. Syria's new visa system is the latest indication that Iraq's regional neighbors can no longer shoulder the burden, and need more help from the international community.
Iraq's Refugee Crisis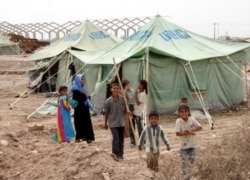 Children at an Iraqi camp for displaced people outside Al-Nasiriyah in May 2006
REFUGEES FLEE SECTARIAN VIOLENCE The UN High Commissioner for Refugees has estimated that over 2 million Iraqis have fled sectarian violence for Jordan, Syria and other neighboring states, while an equal number may be internally displaced within Iraq..... (more)
RELATED ARTICLES
Neighboring States Call For Help With Refugees
Refugees Under Pressure in Syria, Jordan, Lebanon
Displacements Upset Religious, Ethnic Communities
Official Says Refugees To Get New Passports Soon