Bush, speaking in Sydney, Australia, where he attended an Asia-Pacific (APEC) summit, described the Iraq war as part of the conflict against extremists, and said it was important that the United States show "resolve and determination" to deny Al-Qaeda safe havens.
"I found it interesting that on the tape, Iraq was mentioned, which is a reminder that Iraq is a part of this war against extremists," said Bush. "If Al Qaeda bothers to mention Iraq it's because they want to achieve their objectives in Iraq, which is to drive us out and develop a safe haven and the reason they want a safe haven is to launch attacks against America or any other ally. And therefore it is important that we show resolve and determination to protect ourselves to deny Al Qaeda safe haven and to support young democracies which will be a major defeat to their ambitions."
Parts of the video were broadcast just days ahead of the sixth anniversary of the September 11, 2001, terrorist attacks on the United States which Al-Qaeda has claimed to have carried out.
But reports say the video apparently contains no direct threats against the United States or calls for attacks.
U.S. officials say they are analyzing the tape, believed to be bin Laden's first video appearance in nearly three years.
(compiled from agency reports)
Searching For A Way Forward
Searching For A Way Forward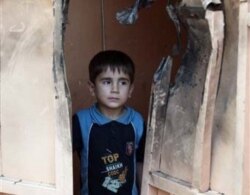 A boy looks out from his Baghdad home (AFP)
LOOKING BEYOND AL-MALIKI: RFE/RL Iraq analyst Kathleen Ridolfo led an RFE/RL briefing about the changing political landscape in Iraq, focusing on efforts to gain the upper hand in the event that the government of Prime Minister Nuri al-Maliki falls.
LISTEN
Listen to the entire briefing (about 70 minutes):

Real Audio
Windows Media
RELATED ARTICLES
Opposition Appears Set On Bringing Down Al-Maliki
Former Premier Pushing New Plan For Reconciliation
Al-Sadr Prepares For Post-Coalition Era
Sunni Ultimatum Rocks Al-Maliki's Position


THE COMPLETE STORY: RFE/RL's complete coverage of events in Iraq and that country's ongoing transition.