Activists Protest Gazprom Tower In St. Petersburg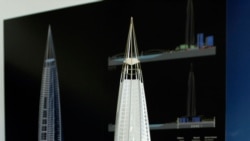 A model of the Gazprom Tower September 8, 2007 -- About 3,000 people have protested in St. Petersburg against plans by the state-owned gas giant Gazprom to build a skyscraper in the Russian city.
The Gazprom complex, scheduled to be completed by 2016, includes a nearly 300-meter-tall building and a hotel in the Neva estuary, near the city's historical center.
The project would change the city's skyline, and has prompted the United Nations Educational, Scientific and Cultural Organization to express concern.
(AFP)