However, a purported spokesman for the insurgent group, Yusuf Ahmadi, said that it does not believe Karzai's suggestion for talks is "sincere."
Speaking by phone with RFE/RL's Radio Free Afghanistan, Ahmadi said Karzai wants the Taliban to come forward to "apologize for their actions and put down their weapons." But at the same time, he said, the Afghan government's Western supporters "have put a several-million-dollar bounty on the Taliban leaders' heads."
The Taliban's fugitive spiritual leader, Mullah Muhammad Omar, and other Taliban officials are wanted by the United States, and rewards have been offered for their capture.
During a news conference on September 9, Karzai reiterated his government's willingness to negotiate with the Taliban and other militants, including former Prime Minister Gulbuddin Hekmatyar's radical Hizb-e Islami faction.
"We have already suggested holding negotiations with the Taliban and Hizb-e Islami, and we repeat it, as well," Karzai said. "In fact, we have to be ready for talks with every Afghan, and I confirm [former Afghan President Burhanuddin] Rabbani's comment in this regard. He said peace without negotiations is just not possible. Any Afghan who is ready to come to his country and assist the peaceful development of his country is most welcome."
Karzai set up a reconciliation commission in 2005 to persuade rebels to put down their weapons. According to Afghan officials, some 2,000 low-level Taliban and other militants have signed up.
In the past two years, Taliban militants have intensified their insurgency, which they launched after being removed from power in 2001.
The United Nations says 183 Afghan and 10 international soldiers have been killed so far this year by suicide bombings blamed on the Taliban.
(with agency reports)
The Afghan Insurgency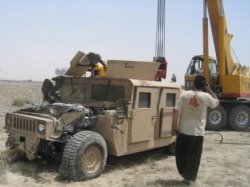 A U.S. military vehicle damaged by insurgents near Kandahar (epa)
HOMEGROWN OR IMPORTED? As attacks against Afghan and international forces continue relentlessly, RFE/RL hosted a briefing to discuss the nature of the Afghan insurgency. The discussion featured Marvin Weinbaum, professor emeritus of political science at the University of Illinois at Urbana-Champaign, and RFE/RL Afghanistan analyst Amin Tarzi.
LISTEN
Listen to the entire briefing (about 83 minutes):
Real Audio
Windows Media
ARCHIVE
RFE/RL's
coverage of Afghanistan
.
SUBSCRIBE
For weekly news and analysis on Afghanistan by e-mail,
subscribe to "RFE/RL Afghanistan Report."