The United States wants to build parts of a missile-defense shield in Poland and the Czech Republic to monitor missile movement in rogue states, such as Iran and North Korea.
Russia, which reacted angrily to the plans, has proposed the Qabala facility in Azerbaijan as an alternative to the sites in Central Europe. Russia leases the site from Azerbaijan, which shares a border with Iran to the south.
When the United States first announced its defense-shield plans, the Kremlin threatened to aim its missiles at Europe in retaliation. Aleksandr Yakushin, the head of the Russian delegation to the Qabala talks, said on September 15 that Moscow will insist Washington abandon its projects in Poland and the Czech Republic.
He added, however, that the talks on Qabala indicated that Russia was willing to compromise. "The very fact that we are showing the Qabala radar station, which is a functioning radar station and which fulfills a very important strategic task and is a secret Defense Ministry site, proves that at the upcoming talks we are ready to openly discuss and show the purpose and perspectives for the development of this station, and that we are fully open to dialogue," Yakushin added.
Agreement 'A Long Way Off'
Washington has given no indication it would accept a Qabala partnership as an alternative to its bases in Central Europe.
But the September 18 meeting in Azerbaijan shows that Russia is willing to keep the conversation moving, says Viktor Kremenyuk, the deputy director of the Institute of U.S. and Canadian Studies in Moscow.
"I think that now Russia has changed its position from the total rejection of this idea to something like a bargaining between Russia and the U.S. on the conditions under which Russia can become part of this global system," Kremenyuk says.
The U.S. experts will decide whether conditions at Qabala are suitable for the defense shield and whether the technology is compatible with the U.S. system. Russia has promised to update the facility to bring it in line with U.S. requirements. But Kremenyuk warns that an agreement between Russia and the United States over the proposed defense system is likely to be a long way off.
"So far, the positions are different. The Russians suggest that this Azeri station should be introduced instead of the American installations in Poland and the Czech Republic, while the Americans think that it may be in addition to what they are doing there," Kremenyuk says. "What may be the final result of this bargaining is still hard to say, but anyway it's good that the process of bargaining is under way."
The Politics Of Military Confrontation
Tomorrow's meeting comes amid deteriorating relations between Russia and the United States on military issues. In response to U.S. defense plans in Central Europe, the Kremlin recently announced it was pulling out of the Conventional Forces in Europe (CFE) Treaty, a key Cold War arms pact that limits the deployment of heavy weapons.
Aleksandr Golts, a defense expert and deputy editor of the "Yezhednevny zhurnal" Internet newspaper, says the meeting is unlikely to result in any sort of deal. "The meeting won't produce any results," Golts said. "It's a meeting of experts who are not bringing with them any documents to be signed."
He says Russian President Vladimir Putin may have a different reason for wanting to come out strong on military issues. "I think actually that the U.S. missile-defense program and the Russian reaction to it [have] more to do with politics than with military strategy," Golts says. "Vladimir Putin wants to bring relations with the West to the fore. He'd rather talk about military-political questions than, say, discuss the handover of power."
Last week, the Russian president dismissed his government and appointed a little-known technocrat, Viktor Zubkov, as his new prime minister. The move triggered speculation that Zubkov may be the president's chosen candidate to run in the presidential election next year.
The Qabala radar station was built in 1984 in the foothills of the Caucasus Mountains in northern Azerbaijan and was the one of the Soviet Union's most powerful missile-detection early-warning systems.
The Russian government has signed a lease until 2012 for the facility, which can monitor missile movement as far away as Africa and the Indian Ocean.

'Equal, Not An Intermediary'
'Equal, Not An Intermediary'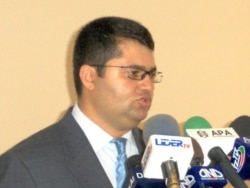 Azerbaijani Foreign Ministry spokesperson Khazar Ibrahim spoke to RFE/RL's Azerbaijani Service acting Director Kenan Aliyev ahead of a meeting on September 18 between military experts from Azerbaijan, Russia, and the United States.

RFE/RL: What is Azerbaijan's position in these negotiations and in what capacity is Azerbaijan participating?

Khazar Ibrahim: As you know, the Qabala [Gabala] [radar] station is owned by Azerbaijan and is leased to Russia for 10 years. The agreement was signed in 2002 and Azerbaijan's stance on this issue is quite clear and it has been aired repeatedly. Azerbaijan is in favor of a more stable and secure regional and international environment and therefore any steps toward this goal are welcome and Azerbaijan will do its best to contribute to this end.

RFE/RL: What does Azerbaijan hope to gain from acting as an intermediary between the United States and Russia on this issue?

Ibrahim: I wouldn't call Azerbaijan an intermediary because Azerbaijan is taking part as an equal on this issue and, as I mentioned already, the Qabala station is under Azerbaijan's ownership and Azerbaijan's only goal is to contribute to regional and international peace, security, and stability and therefore whatever the outcome we hope that it will be for the good of the people of the region and the world.

RFE/RL: How does Azerbaijan balance its interests between Russia, the United States, and Iran without aggravating anyone? For example, we know that Iran is concerned about this possibility that the radar station will be used jointly by Russia and the United States.

Ibrahim: Azerbaijan has always stated that its foreign policy is truly based on its national interest and therefore every step, we very much think about our national interest and also regional and international security is very important for us. We have strategic partnerships today with the United States. We have rapidly growing relations, friendly and neighborly, with both Russia and Iran and therefore we don't want to see any conflict situations between any of these nations. In general, we want to have the region more stable and secure because unfortunately for quite a long time our region has been overwhelmed with conflicts.

RFE/RL: Azerbaijani Defense Minister Safar Abiev said on September 10 that Azerbaijan will find a way to use Qabala if Russia doesn't extend its lease after 2012. What would Azerbaijan use it for?

Ibrahim: Well, right now, we have this agreement with Russia until 2012 and after that, of course, it will stay under the ownership of Azerbaijan and whatever the decision will be, it will be used for that purpose. I can't clearly say for what purpose and in cooperation with which country, but definitely if it's owned by Azerbaijan -- and it is owned by Azerbaijan -- then Azerbaijan will find the right use for this station and of course will try our best to use it as much as possible for the interests of the region and of the world.