Bush, Putin Focus On Missile Defense In Talks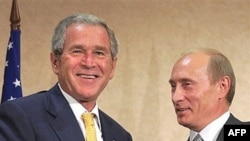 Cordial talks, but disagreements remain (AFP) September 7, 2007 -- U.S. President George W. Bush and Russian President Vladimir Putin have met for talks dominated by U.S. plans to deploy a missile-defense system in Central Europe.
The talks took place on the sidelines of an Asia-Pacific economic meeting in Sydney, Australia, today.
Putin said experts from both sides would meet again soon and inspect a radar station Russia operates in the Caucasus.
"As far as the missile defense problem is concerned, we noted that our [Russian and U.S.] experts are expected to meet again very soon and travel to the Qabala radar station in Azerbaijan," he said. "Therefore, we see that our cooperation in this matter continues."
Moscow has suggested the United States could use the Qabala station instead of the planned defense system in the Czech Republic and Poland, which Russia opposes.
Bush described the talks as "both cordial and constructive."
(AF, Interfax)


UPDATED CONSTANTLY: Visit RFE/RL's Russian-language website, featuring news, analysis, features, streaming audio, and more, in Russian, from RFE/RL's Russian Service.
ARCHIVE
RFE/RL's English-language
coverage of Russia
.