The attack on the 44-year-old editor of the opposition newspaper "Iskakan iravunk" ("True Law") took place on September 15. Galadjian was hospitalized with injuries to his head and body.
Speaking to local media after the incident, Galadjian described the attackers as "two people with bodyguard looks."
He told local media that he received a telephone call from a young man who introduced himself as a reporter from another newspaper and asked for a meeting. Galadjian said he invited the man to his office and gave him his mobile phone number. In the evening, he said he received another call from the same person, who complained that he was unable to find the meeting place. Galadjian then offered to meet outside the building.
Galadjian said that the attack took place when he was coming down the stairs to go to that meeting. The journalist said he was hit over the head and then two men hit him with batons before running away.
Galadjian's newspaper, "Iskakan iravunk," is a spin off of the "Iravunk" newspaper, which was owned and published by the opposition Union of Constitutional Rights (SIM).
During the last year, the SIM has been in turmoil following a leadership dispute. In September 2006, the editor in chief of "Iravunk," Hayk Babukhanian, and his supporters ousted the party's long-time leader, Hrant Khachatrian.
In February, Babukhanian said he was suspending publication of "Iravunk" due to threats by unidentified persons.
Speaking to RFE/RL's Armenian Service, Galadjian said that he suspected that Khachatrian and his supporters were involved in the attack.
In an interview with RFE/RL today, Khachatrian denied personal involvement, but did not exclude the involvement of a third party, which he said could "add fuel to the fire."
The alleged assault is currently being investigated by Yerevan's police.

The Erosion Of CIS Press Freedom
The Erosion Of CIS Press Freedom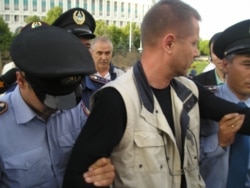 Prominent Kazakh journalist Sergei Duvanov being arrested in Almaty last month (RFE/RL)
FROM BAD TO WORSE. RFE/RL and Freedom House experts held a panel discussion at which they analyzed the erosion of press freedom in many CIS countries. According to Freedom House rankings, in 1994, six of the 12 CIS countries were rated "partly free"; by 2004, 11 of the 12 were rated "not free."
LISTEN
Listen to the entire briefing (about 70 minutes):

Real Audio
Windows Media
SUBSCRIBE
For regular news and analysis on media issues throughout RFE/RL's broadcast area by e-mail,
subscribe to "RFE/RL Media Matters."