NATO, or ISAF (I will use the two terms interchangeably), have kindly seen fit to treat me to three days of visiting Provincial Reconstruction Teams (PRTs) in three different southern provinces -- Kandahar, Zabul, and Uruzgan.
PRTs form the nexus of the conundrum facing ISAF in Afghanistan. "There can be no security without reconstruction, and no reconstruction without security" has become something of a mantra for NATO's secretary-general, Jaap de Hoop Scheffer.
There are 25 PRTs in Afghanistan (one per province, with nine provinces yet to acquire one), and the three listed above are arguably among the most crucial, given that NATO's toughest challenge lies in the southern Afghan part of the wider "Pashtun belt." That challenge combines the double menace of the Taliban insurgency and poppy cultivation. That the recent resurgence of the Taliban in the south of the country closely shadows increases in poppy cultivation is commonly noted by ISAF officials. That the Taliban is a 99-percent Pashtun phenomenon is a somewhat more reluctantly acknowledged, but nonetheless equally incontrovertible, truth.
As my small party was about to embark on its tour, we were told in passing that we would on each leg be joined by a couple of our Afghan colleagues. None ever materialized, however, and after the initial excitement subsided I later asked an ISAF media officer what had happened. I was told that on the first day, one local journalist had turned up at the gates of the wrong compound, where the guards had not been briefed. Two others had arrived at the right ISAF camp, one carrying an expired Afghan press ID and the other an inexpertly forged ISAF pass. Both were detained, questioned for hours, and eventually released. Why the two had taken such liberties was never clearly explained, nor possibly understood, by ISAF personnel.
On another day, a local colleague was apparently on the cusp of accompanying us to Zabul, but then backed out, reportedly for fear of missing the beginning of Ramadan that same night.
Ramadan, as a phenomenon, does not impinge on ISAF's military routine much. ISAF officials and troops are, however, keen to show respect for local traditions in their contacts with Afghans. So in Uruzgan, the Dutch troops at the Chora outpost, living cheek by jowl with an Afghan National Army (ANA) detachment, decided to forego lunch in a one-off gesture on the first day of the fasting month. Which meant the same for our visiting party of journalists. (On a culinary note, as we spent most of our time on base, nearly all of our meals consisted of military fare -- plentiful and wholesome, but prone to repetition and routine. None of it is local, and the amounts wasted look biblical.)
Seat Of Pashtun Power
Kandahar, our first destination, took us to the historical seat of Pashtun political ambition. Modern Afghan kings hail from the region, as does the Taliban, as does President Hamid Karzai.
The Kandahar PRT, located on the outskirts of the city, has Canada as its lead nation. Its corridors currently ring with pronounced French accents, as the country is for the time being represented in Afghanistan by the 22 Regiment, which hails from Quebec.
The PRT is involved in projects -- whose numbers vastly exceed expectations -- intended to improve local welfare, such as funding schools, hospitals, bridges, and wells. I am taken to see a cutting-edge ISAF project -- a shura, or council, turned into a District Development Assembly, which convenes local tribal elders on a regular basis for discussions of what amount to regional development plans. The hope is the local elders will prepare themselves for the challenges of institutionalized self-government, learning on the job. Dand district, whose shura I visit, is a reputed Taliban stronghold. Neither I -- nor ostensibly anyone at ISAF -- knows whether any of the men we meet are Taliban sympathizers.
I then go to see a canal built with ISAF funds, but the crafty "malik" -- a local village administrator -- redirects my group to where he wants ISAF to build a new bridge. Three schools of thought are in evidence as to why a bridge is required. The malik says it would give the 366-hearth village direct access to their grape fields. Some of our Canadian escorts appear to believe the fields are, in fact, a cannabis plantation. Higher-ranked ISAF functionaries say they believe the villagers grow pomegranates.
More than 50 PRT projects are currently in progress in the neighboring Panjwayi and Zhari districts. Both districts, southwest of Kandahar city, are currently a key battleground in ISAF's fight against the Taliban. ISAF forces routed a large Taliban force there in late 2006 and declared a conventional victory. However, as the Canadians pulled back, their casualty-stricken forces, the ANA, and the Afghan National Police (ANP) proved incapable of holding on to the gains and the Taliban started reinfiltrating.
This is exactly the kind of circumstance on which turns the shorter- and medium-term success of ISAF in the south of Afghanistan. A senior ISAF official told me in Kabul that domestic stability is only sustainably achieved by nonmilitary means. ISAF would therefore like to see the ANP become funded as generously as the ANA. Things are moving in the right direction, but the challenges are formidable -- particularly corruption, widely believed to be rife at all political levels. A senior official with ISAF tells me privately the going rate for police chiefdoms in poppy-growing regions is rumored to be $400,000.
Meanwhile, it is not all clear sailing for the chief of ANA's southern 205th Corps in Kandahar, Brigadier General Gul Aqa. He first says the ANA has the Taliban on the run, but then admits the ANA cannot stand without ISAF backing. He assures me no poppies are being grown anywhere near where the ANA's 205th Corps has planted its eagles.
Which means the ANA is steering clear of Afghanistan's worst problem. This brings us back to the ANP. The third showpiece project I'm shown is a police substation in northwestern Kandahar. The police in Afghanistan have such a bad rap that the local authorities have banned officers from giving interviews. This is an interdiction Canadian ISAF troops enforce with bizarre zeal. They say they do not want to complicate relations with the governor, a key pillar of support. The little we manage to extract from the police chief suggests he has not had any contact with the Taliban, nor does he wish to have any.
Thus, the circle closes. ISAF says it is in Afghanistan at the invitation of the Afghan government and only does what the government asks. Its officials admit poppy cultivation and the insurgency are inextricably linked. Yet ISAF won't touch the opium trade, partly because it fears fatalities, and partly because the government hasn't asked it to. Which leaves the government to its own devices. It appears to be expected to "uncorrupt" itself and lift itself out of the morass it finds itself in.
Part Three: Mystery And Suspicion In Zabul
Afghanistan's Opium Problem
Afghanistan's Opium Problem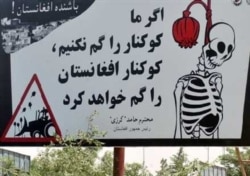 An antidrug billboard in Kabul shows a skeleton hanging from an opium bulb (AFP)
OPIUM FARMING ON THE RISE Despite a nationwide program by the Afghan government to eradicate opium-poppy fields and offer farmers alternative crops, international experts say that the 2006 opium crop was as much as 50 percent larger than the previous year's record crop. Afghanistan also accounted for practically all of the world's illegal opium production.(more)
RELATED ARTICLES
NATO Struggles With Security, Rebuilding In Southern Province
UN Antidrug Chief Wants NATO To Destroy Opium
Saffron Could Help Wean Farmers Off Opium Poppies
Poppy-Eradication Drive Launched In Western Province
Insurgency Gains Ground As Poppy-Eradication Efforts Struggle
SUBSCRIBE
For weekly news and analysis on Afghanistan by e-mail,
subscribe to "RFE/RL Afghanistan Report."