Russia's Communists Vow To Renationalize Key Sectors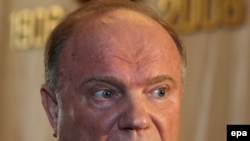 Russian Communist Party leader Gennady Zyuganov (epa) September 22, 2007 -- Russia's communists have vowed to renationalize "strategic" sectors of the economy, if they come to power in upcoming parliamentary election.
Communist Party leader Gennady Zyuganov made the pledge outlining the party's pre-election program at an annual party congress outside Moscow today. At another venue on the edge of Moscow, supporters of former prime minister and presidential hopeful Mikhail Kasyanov planned to form an opposition party ahead of the December 2 election.
(AFP, Interfax, ITAR-TASS)