Piontkovsky, an active member of the opposition Yabloko party and a commentator for RFE/RL's Russian Service, looked by turns frustrated, angry, and exhausted as the prosecution presented its case. His main concern was that an investigation into the book had failed to pinpoint a single phrase or paragraph that could be arguably labeled as extremist.
At one point in the proceedings, he jumped up from his chair and flung a copy of his book at the prosecution, saying that if he faces as much as 15 years in jail, he deserves to know why.
"Pick up the book and show us the passages which contain these so-called terrible crimes that you have described in your report!" he said. "Be so kind as to do this, please. We would like to know what we need to defend ourselves against."
But the lawyer from the prosecutor's office rejected the offer, and five hours after the hearing began, it adjourned with no one any closer to finding out if and where extremist content could be found in Piontkovsky's writings.
What Is 'Extremism'?
Speaking at the trial, Aleksandr Kudrinsky, the head of Russian literature at the Russian State Philological Institute, criticized the prosecution's written allegations as vague and misleading. "I quote: 'The book contains appeals for some kind of hostile or violent acts, propaganda that undermines some or other nationalities.' I can only compare this to, say, a report on someone's death saying that he died from some kind of injuries," Kudrinsky said.
In lieu of a verdict, the judge, Svetlana Klimova, recommended a second investigation into the book's alleged extremist content -- this time by a panel of experts at the Ministry of Justice. She asked them to answer the following question: "Does Andrei Piontkovsky's book 'Unloved Country' contain appeals to start a rebellion, or incite social, racial, national, or religious hatred, or propaganda that alludes to the superiority of one social group, race, nationality, or religion over others?"
Piontkovsky and his lawyers had asked for an independent panel of experts from Moscow's State University to carry out a second probe, fearing the Justice Ministry's report would not be independent.
"I very much hope that the experts will carry out an objective investigation," Roman Karpinsky, one of Piontkovsky's lawyers, said. "The fact that the court rejected the experts who we suggested should sit on the panel alarms me somewhat. But I do sincerely hope that the investigation will be objective."
Piontkovsky is the first person to be tried under Russia's new antiextremism legislation, brought in just months before parliamentary elections in December and a presidential vote next year.
Critics of the law say the new law will restrict the movements of opposition parties and their supporters in the run-up to the elections.
Russia's NGO Law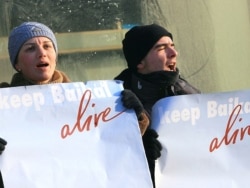 Russian environmental activists demonstrate in February 2006 against a proposed oil pipeline that they believe would have harmed Lake Baikal (TASS)


CLAMPING DOWN ON ACTIVISM. The authors of a report on Russia's controversial law on nongovernmental organizations issued by the U.S. Commission on International Religious Freedom told an RFE/RL briefing in Washington that the law places "disturbing" restrictions on NGOs.
LISTEN
Listen to the entire briefing (about 75 minutes):

Real Audio
Windows Media
RELATED ARTICLES
Foreign NGOs Rush To Beat Registration Deadline
Scrutiny Of Foreign Funds Hurts Democracy Programs
Spy Scandal Highlights Mounting Pressure On NGOs
U.S. Official Says New NGO Law Part Of Antidemocratic Trend

SUBSCRIBE
For a regular review of civil-society developments throughout RFE/RL's broadcast region, subscribe to "RFE/RL (Un)Civil Societies."