The decree, posted on the official Kremlin website, says the measure is meant to "enhance the protection of Russia's interests" at the Strasbourg court.
Some 12,000 complaints from Russia were brought to the court in 2006, amounting to one-fifth of all the cases sent to Strasbourg that year.
Many are filed by residents of Chechnya seeking redress for atrocities by federal forces in the North Caucasus.
(Interfax)

Kremlinology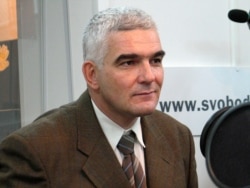 Andrei Ryabov
CONNECTING THE DOTS. RFE/RL's Russian Service spoke to Andrei Ryabov, a political analyst with the Moscow Carnegie Center, about the significance of Viktor Zubkov's nomination as prime minister.
RFE/RL: What does this unexpected decision mean? Why Zubkov, who was never mentioned before are a possible prime minister, to say nothing of a potential presidential successor?
Andrei Ryabov: First, concerning Viktor Zubkov's nomination as prime minister. There were conversations about this, although these rumors always had a peripheral character. Compared to the political heavyweights -- people in the top-10 list like [Russian Railways head] Vladimir Yakunin, [First Deputy Prime Minister] Dmitry Medvedev, and others -- this candidacy was, of course, not considered very realistic. I wouldn't want to start guessing, since there are a lot of possible variations. However, I am not inclined to think that this [Zubkov's appointment] suggests a successor strategy. There is, after all, too little time; this figure is practically unknown. Despite all the possibilities of the contemporary Russian propaganda machine making an unknown figure a public one... in my opinion, we aren't talking about this variant. Most likely, we are talking about a government that will, first of all, have a transitional character and which, possibly, in some key blocs or parts will be passed on to the future successor. And the future successor, most likely, will be presented a little later.
I'd return to the well-known press conference in February when Vladimir Putin said there won't be any successors; there will be candidates for the post of president of the Russian Federation. Therefore, I wouldn't rule out that at the [October 1-2] Unified Russia congress in some form or another, the candidacy of [First Deputy Prime Minister] Sergei Ivanov or, perhaps, of Dmitry Medvedev will be put forward, and the current government will remain as a sort of guarantee of the position of the exiting president during the term of the new head of state. Such a scheme at present seems most likely to me, although, of course, it is nothing more than intellectual speculation.
RFE/RL: Is it possible that Zubkov's candidacy is a stopgap measure, and his nomination indicates that the Kremlin has not decided on a successor?
Ryabov: I don't think that the Kremlin has not decided on a successor. In general it seems to me that the significance of this question has become somewhat inflated. I think that much more serious is the question of the balance of interests, of the new configuration of power after 2008. Here, it would seem, agreement is far off. There are many conflicts, and it is not clear yet that these conflicts are being resolved. I don't think the candidacy of Viktor Zubkov is the candidacy that would facilitate the resolution of these problems in record time.
RFE/RL: Unlike Fradkov, Zukbov doesn't belong to the Chekist group. Does this mean that another staffing resources is being used?
Ryabov: I don't agree -- not in regard to the chekists, but in regard to, say, the equal distance of this figure from all the key political groups. There is a widespread view that the new candidate for premier is also in the sphere of contacts or, shall we say, close to some particular direction. It isn't by chance that I am making so many qualified statements because all this is, naturally, on the level of speculation. Regarding the group of the influential deputy presidential administration head Igor Sechin, at least, he maintains pretty good contacts with that group.