Any dissent from the official line is likely to prompt official retribution in Uzbekistan. Many critics and challengers of incumbent President Islam Karimov have ended up in exile, jail, or even dead.

In such an environment, it might seem improbable that anyone would want to challenge Karimov in a direct presidential ballot.

Yet five men and one woman have nevertheless said they are seeking election as Uzbekistan's head of state. Only one, Dilorom Tashmukhamedova of the pro-presidential Adolat party, has registered with the Central Election Commission. Those who have unofficially announced their intention to run are Suhbat Abdullaev, Akbar Aliev, Abdullo Tojiboy Ogli, Akhtam Shoymardonov, and Jahongir Shosalimov.

President Karimov, who has ruled the country since 1989, is constitutionally barred from running for another term. However, many observers expect the sitting president to somehow orchestrate his reelection, and he has refused to make his intentions clear.

No Choice But To Run?
Abdullaev is a presidential hopeful from Khorazm. Speaking to RFE/RL's Uzbek Service, he admitted that security-service officers told him in late 2006 to run for the presidency.

Abdullaev said he followed the "recommendation" and announced his presidential ambitions in early January.

"They summoned me to the regional national-security committee and told me so openly (that I should run)," Abdullaev says. "They said Uzbekistan needed a pure -- I stress it once again -- very pure candidate, [one] not involved in dirty games and relatively unknown to the public. They said at the time, 'It will look like a victory of democracy. In order to demonstrate that democracy exists in Uzbekistan, we'll not do anything to you.'"

A medical doctor from western Uzbekistan, Abdullaev is little known to the Uzbek public.

Among the achievements he touts on his website, Abdullaev cites "practical assistance to the late Turkmen President Saparmurat Niyazov in creating [his book] 'Rukhnama,'" as well as conducting "successful surgery aimed at treating male erectile impotence through implanting U.S.-made prosthetic devices."

Abdullaev says many Uzbeks support him. He also makes a vague claim of support from "several foreign organizations and individuals." But in his interview with RFE/RL, he failed to provide any further details of those purported sponsors.
One potential candidate claims security-service officers told him to run, saying his candidacy "'will look like a victory of democracy. In order to demonstrate that democracy exists in Uzbekistan, we'll not do anything to you.'"

The backgrounds of the other presidential hopefuls prompt more questions.
Very little has been reported about Tashmukhamedova, the only candidate to officially register with the Central Election Commission, other than that she is first-secretary of Adolat and head of the party's faction in parliament.
Virtually nothing was known of Aliev until he recently announced his intention to challenge Karimov.

The 64-year-old Aliev describes himself as a "scientist, poet, sociologist, philosopher, historian, and specialist in literature." He says he has been unemployed since 1997.
In an interview with RFE/RL, Aliev denied the authorities have any hand in his political activities, saying, "Absolutely not. I don't have any relations with the government in this field."

In an open letter published on several websites last week, Aliev said that any attempt to keep President Karimov in his post would be a "betrayal of the country, its constitution, social justice, development, democracy, human rights, and statehood."

Tojiboy Ogli, of Tashkent, was nominated by the unregistered Alliance of Human Rights Defenders. The 57-year-old told RFE/RL that he has been distributing leaflets in several regions of Uzbekistan for the past six months.

An excerpt from one such leaflet represents genuine criticism of the current government. It cites "a lot of unsolved problems," including "mass poverty" and joblessness, in the country.

Tojiboy Ogli said several people who read or possessed his leaflets have been summoned by police and threatened with prosecution. Some were tried and fined, he claimed.

But Tojiboy Ogli himself has not been prevented from distributing his leaflets.

"I have to admit that the Interior Ministry officers have -- what can I call it? -- [they have] faith in me," Tojiboy Ogli said. "They think, 'Oh, what if he becomes president? This is a wonderful person. We've read his program. He must be a wonderful person.' I handed [the leaflets] over to the Interior Ministry officers who constantly follow me."

The last two potential candidates, Shosalimov of Tashkent and Shoymardonov from the town of Chirchiq near the capital, are human-rights activists.
Official Hurdles

In January 2000, Karimov won an election that involved one other candidate, but was not in any sense a real competition as the opposition was not allowed to participate.

In fact, the leader of the pro-Karimov People's Democratic Party (HDP) who challenged Karimov for the post, Abdulhafiz Jalolov, acknowledged that he himself had voted for his rival.

Western election observers said those polls failed to meet international democratic standards.

This time around, none of the five unofficial challengers who have stepped up represents any political grouping, and the Uzbek state-controlled media have not reported their existence.

This could pose problems considering that all candidates must collect signatures for at least 300 registered members of either a political party or initiative group, as well as a minimum of 5 percent of the country's eligible voters.

One of the five, Abdullaev, told RFE/RL he has "zero chance" of winning, and predicted that December's election is likely to be "buffoonery."

(RFE/RL's Uzbek Service correspondent Oktambek Karimov contributed to this report)

Andijon Anniversary Conference
Andijon Anniversary Conference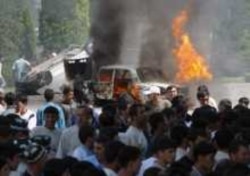 Violence in Andijon, Uzbekistan, on May 14, 2005 (epa)


TALKING ABOUT ANDIJON:
On May 9, 2006, RFE/RL, the National Endowment for Democracy, and U.S.-based human rights organizations cohosted a conference on the May 2005 events in Andijon and their aftermath in Uzbekistan and throughout the region. The first panel featured Andijon eyewitness
GALIMA BUKHARBAEVA
, National Endowment for Democracy Fellow
NOZIMA KAMALOVA
, RFE/RL Central Asia analyst
DANIEL KIMMAGE
, and others. The second panel featured presentations by U.S. Senator
JOHN MCCAIN
and U.S. Congressman
CHRISTOPHER SMITH
, who used the forum to announce they had introduced legislation calling for sanctions and other measures against the government of President Islam Karimov.
LISTEN
Listen to the Andijon conference. Part One (70 minutes):
Real Audio
Windows Media
Part Two (60 minutes):
Real Audio
Windows Media
The Uzbek government's response:
Real Audio
Windows Media


THE COMPLETE STORY: A dedicated webpage bringing together all of RFE/RL's coverage of the events in Andijon, Uzbekistan, in May 2005 and their continuing repercussions.
CHRONOLOGY
For an annotated timeline of the Andijon events and their repercussions, click here.