Putin Says Possibility Of Becoming Premier 'Realistic'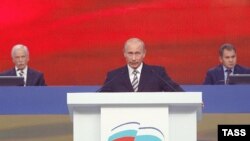 Putin addresses the conference of Unified Russia in Moscow (ITAR-TASS) October 1, 2007 -- Russian President Vladimir Putin said today he has agreed to lead the party list for the pro-Kremlin Unified Russia party in State Duma elections in December.
Putin made his comment today at a Unified Russia conference in Moscow.
"Your party can and must become an instrument of social stability that ensures the viability of the future parliament and all state power, that promotes development and supports the executive branch in carrying out the plans it draws out. And this is what we can and should talk about," Putin said. "Therefore, I gratefully accept your proposal that I head the Unified Russia list [for the December 2007 parliamentary elections]."
Putin also said a suggestion that he could serve as Russia's prime minister in a future government is "quite a realistic proposal."
"But it's too early to think about it because at least two conditions must be met for that," Putin continued. "First of all, Unified Russia must win the December 2 parliamentary elections. And secondly, a decent, capable, efficient, modern person should be elected president."
The statements are the strongest indication yet of Putin's plans after he steps down as president at the end of his second term in 2008.
(Reuters, AFP)

SUBSCRIBE For news and analysis on Russia by e-mail,
subscribe to "RFE/RL Russia Report."