The father of 10 children, Akhunzada spent years studying Islam in Afghanistan and as a refugee in Pakistan.
Until early this year, Akhunzada was teaching at a religious boarding school for the poor, a madrasah, in Pakistan's Baluchistan Province. He says he saw two Taliban commanders come to his madrasah repeatedly in order to recruit young students as suicide bombers.
In February, amid intense pressure from others at the madrasah, Akhunzada says he joined a group of three dozen young men who were recruited by Pakistani militants to become suicide bombers.
"It was in the middle of the night [when we left]," he told RFE/RL's Radio Free Afghanistan. "They took us in a specially prepared vehicle when it was dark. [There were no windows but] there were some small holes in the roof [of the vehicle] to allow air for us to breathe. Through those small holes, we could see the sky. They took us from Kuchlagh [a small town in Baluchistan near the city of Quetta]. Then we went to a madrasah in Quetta. But I don't know where they took us after that.
"On the way [to a training camp somewhere near the Pakistan-Afghan border], I was looking at the mountaintops [through the holes in the roof] and I was trying to draw them on paper," Akhunzada says. "I was imagining that these could be mountains in Afghanistan. That's when I began to think that this work was not being done for God's sake. It is against Islam and it is against Afghanistan. That's when I realized that this is absolutely a case of interference [by militants] of Pakistan within Afghanistan."

Felt Unable To Speak Out
Akhunzada says that despite his doubts, he completed a short training program with the other recruits. Often militant trainers indoctrinate young men -- using passages from the Koran out of context to justify the killing of innocent people, including Muslims.
Akhunzada says he became convinced that his militant trainers were manipulating and misleading the younger students. But he feared for his own safety if he spoke out. Instead, he kept his thoughts to himself until after the training was completed and each recruit had been given explosives along with instructions to carry out suicide attacks in Afghanistan.
"There were 36 of us [including one Chechen], who were transported [to the training camp]," Akhunzada continues. "We all completed our training. And after we finished the training, we were allowed to return to our homes for a week to 10 days to say goodbye to our families, to pray, and to prepare ourselves mentally for a suicide attack. This is the normal process for suicide bombers. But I didn't return [to the militants]. They were very much on my trail, trying to catch me. But I went into hiding instead."
During the six months that have passed since Akhunzada went into hiding, he says four suicide attacks have been carried out in Helmand Province by men that he knew from the mountain training camp.
Akhunzada says he managed to convince two young recruits from the group to abandon plans to commit suicide attacks in Afghanistan. Those two also have gone into hiding, fearing that they would be killed by militants because of what they have learned about the Taliban's recruiting and training infrastructure.

Recruits Often Impressionable Youths
At the age of 46, Akhunzada is an unusual recruit for a suicide attack. Officials in Kabul say it is more common for suicide bombers and Taliban fighters to be recruited from among impressionable youths at madrasahs in Pakistan's border regions near Afghanistan.
In July, Afghan President Hamid Karzai pardoned a 14-year-old Pakistani boy who was caught wearing a suicide bomber's vest while riding a motorbike in the southeastern Afghan city of Khost. The boy's father says he lost contact with his son after he sent the boy to a madrasah in Pakistan to study the Koran.
Another would-be suicide bomber told RFE/RL that he felt trapped and helpless once he had been trained for a suicide mission.
Mohammad Feroz, a man from southern Afghanistan, says he was recruited by militants who trained and paid him to carry out a suicide attack in Kandahar in late 2006.
Feroz went into hiding and contacted Radio Free Afghanistan by telephone after he decided not to detonate the suicide bomber's belt that his trainers had given him. He credited a Radio Free Afghanistan report on suicide bombers with dissuading him from carrying out the attack.
"I am in Kandahar right now," Feroz said. "I want to get out of this place. I was listening to Radio Free Afghanistan and they had a report. Thank you for such a good message -- it has saved my life. I received [the equivalent of $10,000 in afghanis] from a man who told me that I must become a suicide bomber in Kandahar. [But] I have escaped and I am in hiding now."
Feroz's whereabouts today are unknown. Radio Free Afghanistan has been unable to contact him since his initial telephone calls to the station.
(Contributors to this story include Hashem Mohmand and Freshta Jalalzai of RFE/RL's Radio Free Afghanistan. The name of the man identified as Akhunzada has been changed at his request to protect his safety.)
Madrasahs And Tolerance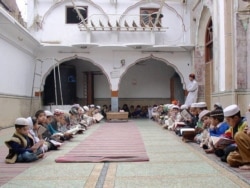 Students at a madrasah in Peshawar, Pakistan (epa file photo)

INSIDE THE MADRASAHS. The role of the traditional Islamic school, or madrasah, is being increasingly discussed. Many in the West and in the Muslim world have criticized some madrasahs for teaching intolerance and even violence...(more)
RELATED ARTICLES
Pakistan Madrasahs Reject Government Crackdown Efforts
Central Asian Madrasahs Lead Religious Teaching Revival
The Role Of Religion In Classrooms
Pakistan President Says Some Madrasahs Breed Terrorists
ARCHIVE
RFE/RL reporting on Afghanistan, Pakistan, Iraq, Iran, Tatarstan and Bashkortostan, and Central Asia.