Scores Of Militants Killed In Pakistan's Tribal Region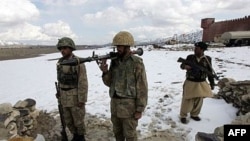 Pakistani soldiers on patrol in North Waziristan (file photo) (AFP) October 9, 2007 -- Pakistan's military says scores of pro-Taliban militants have been killed in the past several days of fighting in the North Waziristan tribal region bordering Afghanistan.
The army said in a statement that 150 militants and 45 Pakistani soldiers had died in the fighting.
The fighting broke out when militants attacked security posts on October 7 and Pakistani forces retaliated with air strikes and ground assaults.
Villagers in North Waziristan are quoted as saying there were also civilian casualties during the clashes, but the military was unable to confirm those reports.
Taliban and Al-Qaeda militants fled to Pakistan's mountainous tribal areas after being driven out of Afghanistan in the 2001 U.S.-led invasion.
(AFP, Reuters,dpa)

EYE OF A STORM:
Afghan officials first suggested that insurgents or terrorists were crossing the border from Pakistan in 2003. Relations have run hot and cold ever since. But the roots of the problem go back much further.