Authorities in the region of Khatlon suggest the ban on young boys going to mosque is an effort to boost school attendance.
But its timing -- in the wake of recent crackdowns on religious dress, unregistered mosques, and the clergy -- has government critics accusing officials of "using any pretext" to put pressure on mosques.
Local neighborhood leaders in the city of Kurgonteppa in Khatlon this week urged imams to comply with the ban.
The head of the religious affairs in the Khatlon governor's office, Hussein Shokirov, said educational authorities made the decision at "parents' and local imams' suggestion" in light of complaints of poor attendance at schools.
But Kurgonteppa resident Usmon Tuychiev rejected that reasoning, claiming that parents' complaints had nothing to do with the ban.
Tuychiev accused the authorities of double standards, and told RFE/RL's Tajik Service that the authorities regularly cancel lessons to enlist children's help harvesting cotton.
"Some people have apparently been worried by the fact that students miss their lessons -- for an hour or two -- when they attend Friday prayers," Tuychiev said. "On the other hand, our students spend three to four months in cotton fields and don't have any lessons during that period. But apparently no one is concerned about that problem."
Enforcing The Ban
Dushanbe city authorities issued a similar order in 2006, and police officers reportedly raided mosques in the capital last year to enforce the prohibition.
Some reports suggested that similar raids took place at Khatlon mosques this week, but local authorities have denied those rumors.
RFE/RL Tajik Service correspondent Abubakr Faizali reports that local school officials in Khatlon's Bokhtar district have warned schools that "their teachers will be punished if pupils attend prayers."
Participation in mosque prayers is uncommon among Tajik schoolchildren. But during the Muslim holy month of Ramadan, which ends on October 12, children frequently accompany their parents for what are called "Tarobeh" prayers. Tarobeh is performed along with evening prayers during Ramadan.
Tajik authorities earlier this year ordered imams to register all places of worship, and have shut down and even destroyed some makeshift "mosques."
Kalandar Sadriddinzoda, the head of the opposition Islamic Renaissance Party's office in Khatlon, says the new ban undermines existing legislation, including a 2007 law on the "regulation of traditions and private functions" that was initiated by President Emomali Rahmon.
"Not a single law -- even the law on traditions that has been created most recently -- says that people cannot go to mosque," Sadriddinzoda said.
Tajikistan's Council of Clerics has in the past barred women from attending Friday prayers, although very few women in the country go to mosques.

Islam And Politics In Central Asia
Islam And Politics In Central Asia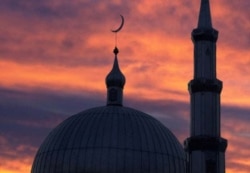 The Khodji Mashrab Mosque in Dushanbe (TASS file photo)
ACTIVISTS AND AUTOCRATS: Eric McGlinchey, assistant professor of government and politics at George Mason University, told an RFE/RL briefing that Islam-centered political movements present the most coherent challenge to autocratic governments in Central Asia.
LISTEN
Listen to the entire briefing (about 60 minutes):

Real Audio
Windows Media
RELATED ARTICLES
Central Asian Security Services Take On Religious Dissent
Family, Followers Reject 'Terrorist' Claims Against Slain Cleric
Hizb Ut-Tahrir's Calls For Islamic State Find Support
Imam Extends Welcome To Hizb Ut-Tahrir

A thematic webpage devoted to issues of religious tolerance in RFE/RL's broadcast region and around the globe.