But international efforts continue to transform this troubled Afghan province from a war zone to a place of peace and development.
With a large number of British troops and smaller contingents of Estonian, Danish, and Czech soldiers, Helmand has had the largest concentration of NATO-led International Security and Assistance Force (ISAF) troops over the past year -- some 7,000.
As part of the "war on terror," a small number of U.S. forces also operate separately against the Taliban and Al-Qaeda insurgents who use the province as one of their main bases for fighting against international forces.
And Helmand residents are upset about the level of fighting in their daily lives.
Foreign Troops Blamed For Civilian Deaths

Haji Shah Wali, a resident of Helmand's relatively peaceful Nawa-i-Barakzai district, tells RFE/RL's Radio Free Afghanistan that foreigners -- both those in Al-Qaeda and their Taliban allies as well as the international forces -- are responsible for causing the insecurity in society. The troops kill civilians "without reason," he says. "They also do random aerial bombings and [the international troops] force people to leave their houses and to take up guns."
International media estimates of more than 5,000 deaths would make the current year the most violent in Afghanistan since the fall of the Taliban regime in late 2001. Much of that violence has been concentrated in Helmand, where ISAF troops have fought fierce battles against Taliban insurgents.
While originally mandated to provide security assistance to the Afghan government and thereby bring reconstruction and development to Helmand, the international troops increasingly find themselves mired in a violent insurgency.
For many Helmand residents, the indifference by ISAF forces to local customs and traditions and their unwillingness at times to listen to tribal elders has contributed to the problems in Helmand.
Mullah Haji Habibullah, a Helmand tribal elder, says international forces frequently depend on unreliable local informants who sometimes lead ISAF troops to bomb or arrest the informants' enemies, who are often innocent civilians.
"They hardly listen to our tribal elders, district administrator, or police chief. They often rely on their own unreliable people [or informants]," Habibullah says. "For the past 25 years, we have been at war and we have a lot of rivalries and enemies here. And [the foreign troops] became part of it by relying only on one source. If these Americans had acted on the advice of our district administrator, the police chief, or the tribal elders, then they would have rebuilt Afghanistan by now."
Government Demands Progress

Civilian deaths in NATO's military operations targeting Taliban militants often lead to tensions between the international forces and their Afghan allies, and they contribute to a general hostility toward foreign troops. Westerners are also accused of ignoring the tribal, linguistic, and regional complexities of Afghanistan.
Helmand's soaring drug production, a roaring Taliban insurgency, and civilian casualties from NATO's aerial bombing have led to fissures between President Hamid Karzai's administration and NATO.
Many Helmand districts have changed hands between ISAF and the Taliban in the past year.

In a late-August speech, Karzai blasted the international community for its actions in Helmand.
"The international community should assist Afghanistan in strengthening its institutions," Karzai said. "This should be done in a way to empower an Afghan governor or a police chief and other institutions. Helmand's governor cannot improve things [on his own] because [the international community] took matters into their own hands in Helmand. And they gave it back to the Taliban. Now the [militants] are sitting there and Al-Qaeda roams around freely. Our friends [in the international community] need to listen to us. We are partners and our strategic vision is one and we share our successes and failures. But we can only be successful if we coordinate and if the Afghan view is listened to. If we are not listened to we will have more setbacks similar to Helmand."
ISAF soldiers in Helmand are adamant that they are making a difference.

Lieutenant John Larma, an ISAF officer in Helmand, says that ISAF deeply regrets all civilian casualties, but he insists that with its Afghan allies they are making steady progress. He cites the example of the northern Helmand district of Sangin, which last year changed hands between the Taliban and NATO but is now stabilizing and added that families who were displaced from Sangin are now returning home. "This all takes time, and things can't be changed overnight," Larma says.
Massive Aid, But What Impact?

The international community is pouring in aid dollars in an effort to help stabilize Afghanistan's restive south. Helmand is the fifth-largest aid recipient from the U.S. Agency for International Development.
The most ambitious reconstruction project is the renovation of the Kajaki Dam in northern Helmand. Currently under threat by increased Taliban activity around the dam site, the project is estimated to cost some $500 million and might employ 4,000 Afghans. Once fully operational, Kajaki Dam should provide electricity to some 1.7 million Afghans.
Lieutenant Colonel Richard Eaton, ISAF's spokesman in Helmand, maintains that NATO has a long-term commitment to reconstruct and develop Helmand Province. In the short term, they are undertaking several "quick-impact projects" -- such as building bridges and helping to restore irrigation channels for farmers -- although they say they are also keeping an eye on events in the long term.
"We try to do things that will have an immediate impact and make the quality of life of people better," Eaton says. "But, at the same time it is important to understand that the longer-term projects -- schooling, education, health care, the rule of law, a really capable military force, and a police force that has the people's trust and respect -- is going to take time to develop."
Eaton maintains that Helmand's main problem -- the insecurity created by the Taliban and Al-Qaeda insurgency -- will need something more. It will need a political settlement involving all sides.
"The important thing is for the democracy to prevail and these are decisions for the Afghan people," Eaton says. "ISAF is here on a UN-mandated mission to help build the circumstances in parallel to the political process. This is a process that is going to unfold in time and it's a process of inclusion of all of those who are involved. But it can't be resolved in a day."
U.S.-Afghan Relations
STRATEGIC PARTNERS:
Since leading the military campaign to oust the fundamentalist and largely unrecognized Taliban regime from power in 2001, U.S. officials have pledged a long-term interest in Afghan stability.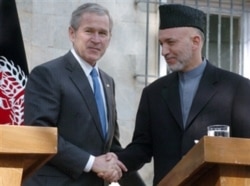 READ
'Strategic Partnership' Seen As Move Toward De Facto Rights For U.S. Bases
Analyst Discusses Increased U.S. Effort
Bush, Karzai Agree On Strategy Against Terror
Former CIA Analyst Says West Misunderstands Al-Qaeda
For regular news and analysis on Afghanistan by e-mail, subscribe to "RFE/RL Afghanistan Report."