Over the past two decades, the Russian tycoon, who hails from one of the Uzbek capital's most prominent legal families, has amassed a fortune that is estimated at more than $5.5 billion. Yet outside the former Soviet Union, little was known of the portly 54-year-old until last summer, when Usmanov suddenly seized headlines in Britain and elsewhere with a series of sensational stories -- not all to his liking.
In Britain, Usmanov seemingly took the easy route to instant notoriety: In August, he went on a buying spree of shares in former English Premier League champion Arsenal, raising his stake in the team to 23 percent. In doing so, Usmanov put himself in a position to launch a takeover of the storied club, and became an instant target of criticism by English fans concerned about the future of the "Gunners."
Currying Favor
Around the same time in Russia, Usmanov was winning praise for donating the entire collection of artwork of the late cellist Mstislav Rostropovich to the Constantine Palace in St. Petersburg, a presidential residence and venue for international summits. The works, which carried a reported price tag of $40 million, seemed to signal a desire to please President Vladimir Putin, whom Usmanov has called "a blessing" for Russia.
But back in Britain, more bad press beckoned. On his Internet blog, Craig Murray, an outspoken former British ambassador to Uzbekistan, made a series of allegations about Usmanov's business affairs and his alleged financial ties to Gulnara Karimova, Karimov's eldest daughter. Murray also called Usmanov a convicted criminal in reference to his 1980 imprisonment for fraud, extortion, and rape. Usmanov, who says he was framed, calls himself a "political prisoner" who was later pardoned by Soviet leader Mikhail Gorbachev.
Murray's blog sparked a legal storm in Britain, which boasts some of the world's toughest libel laws. Usmanov's lawyers succeeded in having Murray's post taken down, citing libelous charges. Then, Usmanov launched a charm counterattack, flying several British reporters on his private jet for interviews at his retreat outside Moscow. The result was a series of profiles in the British press that portrayed Usmanov as an enlightened tycoon hard done by both the Western media and the Soviet system. "All my life I've been confronted with prejudiced people who are determined to turn me into a stereotype -- a Central Asian thief," he told "The Times" of London.
The billionaire, however, perhaps didn't anticipate the unintended consequences of his legal and media offensive. In recent weeks, a flurry of blogs and websites has popped up to post Murray's original criticisms as well as other scathing remarks about the Uzbek-born billionaire. If Usmanov had sought to silence his critics, the effect of his actions has been to shine an even brighter light on his controversial story.
Checkered Past
Which is what Murray continues to do. "It's true that Russia is something of a gangster state now where the mafia in alliance with the KGB and former KGB operators really control the state," Murray later told RFE/RL. "And this has enabled a small number of people to become ridiculously wealthy billionaires through seizure of state assets -- like the state's mineral resources -- for which they did not, in fact, pay a single penny. They simply, effectively, stole them. And Usmanov is one of that class of oligarchs."
Not that any of this has mattered back home. In fact, Usmanov's London buying spree as well as the latest brouhaha surrounding his alleged conduct have largely been ignored by the media in Russia or in his native Uzbekistan.
The tycoon himself says he has little to do with Uzbekistan. A Russian citizen, Usmanov says his ties to his native land are limited to annual pilgrimages home to visit his parents' grave. Yet many people, including Murray, are convinced that Usmanov harbors significant ambitions regarding his Central Asian homeland.
Murray says Karimov and his family would like Usmanov to succeed the president, who is largely reviled in the West as one of the most oppressive leaders in the former Soviet sphere. Of course, any such move does not appear imminent, even if Uzbekistan is set to hold presidential polls in December. That's because while Karimov is barred by the constitution from running for a third term, he is widely expected to change the law or hold a referendum to stay in office -- a common practice in the neighborhood.
"I've been aware for at least the last three years that Alisher Usmanov was looked on favorably by the Karimov family as a possible, eventual successor when President Karimov decides to give up in -- what Karimov hopes -- won't be for several years," Murray says. "But the Karimov family has been very keen to find a successor who they trust will not take all the money and all the industries and properties away from the Karimov family."
Yevgeny Volk, who heads the Nasledie think tank in Moscow, says it is too early to speculate about a possible successor to Karimov. But he agrees that Usmanov would be a likely contender to take over when the 71-year-old strongman passes on. "I think [Usmanov] needs power because -- first of all -- he still is a stranger in Russia to some extent," Volk says. "With his [ethnic] origin and roots, he belongs to the Uzbek nation. I think his political ambitions could be realized in Uzbekistan."
But it's not just his native roots, as displayed in the gilded Central Asian vases that line the halls of his retreat on the Moscow river, that would make Usmanov the right man for the job. Usmanov, a senior adviser to Gazprom and president of one its subsidiaries, is arguably part and parcel of the Kremlin's inner circle.
Kremlin Man?
Because Russia and its energy firms still play a significant role in Tashkent's affairs, Usmanov could be uniquely poised to eventually take over in the Uzbek capital with pivotal backing from Moscow. "Usmanov's latest steps show his efforts to create a rapport with Russian leaders and demonstrate his loyalty," Volk says. "His purchase of Rostropovich's collection for a significant amount of money is a kind of investment in exchange for the Russian elite's support for his future ambitions."
Like British-based Russian oligarch Roman Abramovich, who also owns an English soccer club, Usmanov is believed to operate freely in large part due to his support for Putin. In 2006, Usmanov bought the Russian newspaper "Kommersant," which once belonged to Putin's staunch critic and London exile, Boris Berezovsky. The newspaper can be relied on by Kremlin leaders for a steady stream of positive spin.
Usmanov has never said publicly that he would consider entering politics. Nor has he made any political comments about Uzbekistan. There could also be official and legal barriers for Usmanov to run for the Uzbek presidency. His Russian citizenship and years abroad could work against his candidacy. But with Russia using energy clout to reassert hegemony over the lands of Moscow's former empire, few profiles might better fit the bill to lead Central Asia's most populous nation than that of Alisher Usmanov.
(RFE/RL's Uzbek Service contributed to this report.)
Uzbekistan, Russia, And The West
Uzbekistan, Russia, And The West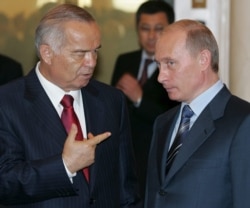 President Karimov (left) with Russian President Putin in July 2005 (epa)


BETWEEN EAST AND WEST: One of the ramifications of the May 2005 bloodshed in Andijon has been a souring of relations between Tashkent and the West, accompanied by a raproachment between Uzbekistan and Russia. Following sharp U.S. and European criticism of the Andijon crackdown, Uzbekistan kicked the United States out of the Karshi-Khanabad air base and began actively courting Moscow.
"Today, we are reaching an unprecedented level in our relationship," Uzbek President Islam Karimov said during a November 2005 summit with Russian President Vladimir Putin, at which the leaders signed a strategic-partnership agreement. "I understand and we all understand in Uzbekistan that it is unprecedented that Russia signs such a partnership agreement with Uzbekistan."
RELATED ARTICLES
Germany Likely To Leave Uzbek Base
The Geopolitical Game In Central Asia
Uzbekistan: Between East And West
Central Asia: Russia And U.S. Often At Odds In Region
Russian, U.S. Military Bases On Opposite Tracks
Swiss Spokeswoman Explains Arms Ban On Uzbekistan
Putin Defends Ties With Uzbekistan, Belarus, Iran
Uzbekistan: Playing Russia Against The West
Factbox Of Uzbek-Russian Relations


THE COMPLETE STORY: A dedicated webpage bringing together all of RFE/RL's coverage of the events in Andijon, Uzbekistan, in May 2005 and their continuing repercussions.
CHRONOLOGY
For an annotated timeline of the Andijon events and their repercussions, click here.