Natural resources remain the big draw for foreign investors in CIS countries -- particularly Russia, which continues to bring in billions even as it imposes greater restrictions on foreign access to energy, metals, timber, and other extractables.
The "World Investment Report," released on October 16 by the UN's trade and development body, notes that FDI in Russia reached $29 billion in 2006 and is expected to grow in 2007 -- despite attempts to control the influence of foreign investors by limiting investment to joint ventures with local entities, direct cash injections, or minority shareholdings.

UN economic adviser Kalman Kalotay, one the report's authors, says for many potential investors, the allure of Russia's riches still outweighs the headaches of doing business there. It's a situation that he calls the "Russian paradox."
Rush For Resources
"One of the explanations is, of course, that natural resources of Russia are so attractive that the foreign investors accept conditions that restrict the control of natural resources -- for example, they can become only minority partners," Kalmay says. "They can also accept higher taxes and higher royalties and other payments toward the government because there is such a rush for the natural resources of the Russian Federation."
Resource-rich Kazakhstan, which in 2006 attracted $6 billion in 2006 -- more than half the total in Central Asia -- appears intent on following the Russian model of protecting its natural-resource industries. But it has a way to go -- foreign investors still control 48 percent of Kazakhstan's oil and gas holdings, while in Russia the number has dropped to just 7 percent. Still, with Astana moving to renegotiate some of its contracts with foreigners -- such as with Italy's ENI, which is developing the country's Kashagan oil field -- investors can expect to reduce their level of involvement, accept minority stakes, and transfer a bigger share of their profits to the government.
Even so, foreign direct investment in Russia and Kazakhstan is expected to increase in 2007, albeit at a slower rate. Kalotay says many investors squeezed out of the natural-resources industries will redirect their cash toward enterprises that governments consider "nonstrategic."
"It is already part of the reality in the Russian Federation, where natural resources are not even more than roughly 35 to 40 percent of the foreign-direct-investment flow," Kalmay says. "The rest is in services, banking, consumer goods, light industries, and the like. And then the same potential would exist in Kazakhstan. And in Kazakhstan, so far investment outside of oil, gas, mining, iron, steel, and the like has been almost nonexistent."
Another energy-rich country, Azerbaijan, saw its foreign investment drop. Kalotay says it's a new situation for Baku, which in previous years was regularly among the top-five recipients of foreign direct investment in the CIS. "Over the previous years more than 95 percent of foreign-direct-investment inflows in Azerbaijan were in the oil and gas industry," Kalotay says. "There was direct oil and gas extraction and there was the Baku-Tbilisi-Ceyhan pipeline. Now the construction Baku-Tbilisi-Ceyhan pipeline is over. That means that the country can no longer have those hundreds of millions of dollars."
Similar FDI fluctuations have also been seen in Kazakhstan, and are usually tied to the completion of or lack of new projects. Kalotay suggests that Azerbaijan may need to diversify its economy in order to lure investment to new sectors. "In the case of Azerbaijan, the situation is even more delicate, because in Kazakhstan, in addition to oil and gas, there are also the mining resources and then the metallurgy," he says. "But in the case of Azerbaijan those investment opportunities don't exist."
Ukraine continues to receive a steady FDI inflow, receiving $5 billion in 2006. Despite a slight decrease in investment from 2005, Ukraine does not appear unduly hurt by its ongoing political uncertainty, and in fact is faring far better than in its pre-Orange Revolution days, when foreign investment was less than $1 billion.
Russia In Ukraine
Kalotay notes that in many instances, foreign investment in Ukraine comes from Russia. Moscow's FDI outflows in 2006 reached $18 billion, accounting for more than 96 percent total investment outflows in the region. "In the case of Ukraine, we have two types of statistics. One is the official statistics, and the other is the kind of hints or estimates -- because in official statistics, the Russian Federation is not among the top investors," Kalotay says. "But if you open the official statistics of Ukraine, you see that there are countries like Cyprus, Austria, the Netherlands, and the Cayman Islands that are huge investors in Ukraine. Those can be assumed to be places from which Russian capital is arriving."
Other countries are faring less well. Belarus, for example, received just $344 million in foreign direct investment in 2006. Kalotay says it's a remarkably meager figure, especially compared to FDI levels in countries of comparable size and population -- like the Czech Republic, which receives roughly 20 times more FDI.
Inflows into the CIS and Southeast Europe remain unevenly distributed, with just five countries accounting for 82 percent of total FDI -- Russia, Romania, Kazakhstan, Ukraine, and Bulgaria. Investment into Romania and Bulgaria ($5 billion) was boosted in 2006 due to the privatization of a number of state-owned enterprises and in anticipation of their accession to the European Union at the start of 2007.
An OPEC For Natural Gas?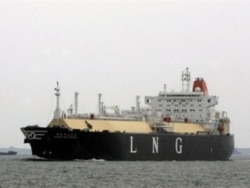 A tanker carries liquified natural gas to markets in Asia (AFP)

COMING TOGETHER? PFC energy analyst Nikos Tsafos and RFE/RL energy analyst Roman Kupchinsky discussed with an RFE/RL briefing what the likelihood is of a natural-gas-producers consortium being formed and what such an organization might look like.
LISTEN
Listen to the entire briefing (about 70 minutes):

Real Audio
Windows Media
RELATED ARTICLES
Vision Of Global Gas Cartel Gains Clarity
Putin To Take His Message To The Persian Gulf
Iranian Politicians Support Establishment Of Natural-Gas Cartel
'Gas OPEC' Moves Closer To Becoming Reality