Journalist Shot Dead In Southern Kyrgyzstan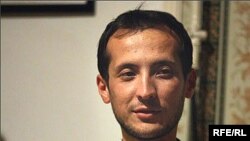 Alisher Saipov in January 2007 (RFE/RL) October 24, 2007 (RFE/RL) -- A Kyrgyz journalist who frequently wrote articles critical of neighboring Uzbekistan's ruling administration has been slain in Kyrgyzstan.
Twenty-five-year-old Alisher Saipov appeared to have been shot to death. His body was found today in downtown Osh, which lies in a heavily ethnic-Uzbek region of southern Kyrgyzstan, RFE/RL's Uzbek Service reported.

Saipov was editor of the "Siyosat" (Politics) newspaper.