Since the holiday was established just two years ago, the event has been marred by nationwide rallies held by Russia's mushrooming ultranationalist and neo-Nazi groups.

With Moscow readying for a major event on November 4, minorities and rights defenders fear a repeat of the sort of violence that took place in the city two weeks ago.

According to witnesses, on October 20 a group of teenagers first verbally assaulted Sergei Nikolayev, a tournament chess player and native of the northeast Siberian republic of Sakha, as he passed on the street. Then, enraged by Nikolayev's indifference, they slammed the 46-year-old to the ground. They pounded him with punches and shot a flare into his chest before stabbing him to death.

It was five in the afternoon on a busy Moscow street.

The teens then turned their wrath toward Rustam Gulimov, an Uzbek caretaker working on the same street. Gulimov survived the attack, but the severe knife wounds left him permanently paralyzed.

Prosecutors say they have detained and charged six teenagers aged 13 to 15. They classified the attacks as racially motivated after police found mobile-phone video footage of the attacks at the suspects' homes. According to prosecutors, the group could be implicated in two dozen other hate crimes, including the killing of an Armenian student on October 20, several blocks from where Nikolayev was slain.

The teenagers' killing frenzy, police say, was sparked by a victory for the Spartak Moscow soccer team.

Fears Of Further Violence

Svetlana Gannushkina, a veteran human rights campaigner, advises ethnic minorities against leaving the safety of their homes on People's Unity Day. "Stay home," she says. "This is a date when, instead of unity, our nationalists -- with the government's encouragement -- show their worst side."

People's Unity Day was initiated by the Kremlin in 2005 to celebrate the expulsion of Polish and Lithuanian troops from Moscow in 1612. Ultranationalist and Nazi groups were swift to adopt November 4 as their own -- a day when they parade through their cities to warn that "Russia is for Russians."

This year, thousands of ultranationalists will once again take to the streets throughout the country. The largest march is planned in Moscow, where authorities have given it the green light. This has angered human rights groups, which have long accused Russian authorities of turning a blind eye to the nationwide surge in racist violence. Russia's ruling elite, they say, even taps into xenophobic sentiment.

"Authorities don't publicly encourage crimes by skinheads or the activities of ultranationalist organizations. But they compete with these ultranationalist organizations for people's support," says Galina Kozhevnikova, an expert at the Moscow-based Sova center, which monitors racism and xenophobia. "They constantly use more moderate but still xenophobic slogans and take xenophobic, discriminatory measures, although these are not violent."

Kozhevnikova cites the mass deportation of ethnic Georgians in the fall of 2006, a measure widely seen as retaliation for the arrest in Tbilisi of four Russian officers on spying charges.

In January, Russia banned all foreigners from working at its markets. President Vladimir Putin said the move was intended to protect the interests of "native Russians."

Hate Crimes Or Hooliganism

The fact that the suspects in the killing of Sergei Nikolayev face racism charges testifies to some progress in the prosecution of racist offenders. Until recently, even obvious hate crimes were classified as hooliganism -- a charge that carries milder sentences.

The most shocking instance was perhaps the conviction of seven teenagers on hooliganism charges and the acquittal of another in connection with the stabbing death of a 9-year-old Tajik girl in St. Petersburg in 2004. Human rights groups denounced the 2006 verdict as a "moral outrage." A few weeks later, Amnesty International blasted Russian authorities for allowing racism to run "out of control."
But Russia is still reluctant to punish hate crimes. According to Sova, 53 people have been killed and 419 wounded in racially motivated attacks so far this year. But only 17 people have been sentenced this year for racially motivated attacks.

The attack on Nikolayev seems to illustrate that the climate of impunity is encouraging increasingly brazen, violent assaults.

The slaying last year of Samba Lamzar, a Senegalese student, rocked the African community in St. Petersburg. Lamzar was shot dead as he and a group of friends left a popular St. Petersburg nightclub where they had been celebrating their institute's faculty day. A hunting riffle emblazoned with a Nazi swastika was found near the scene.

"There haven't been too many attacks recently. But the fear is still there," says Desire Deffo, a student in St. Petersburg from Cameroon who was a friend of Lamzar. "Samba's death has not gone away, it's still fresh in the minds of students. They are careful. Personally, I wouldn't recommend going out alone, it's safer to go out in a group of at least two people."

Not only foreigners but also dark-skinned Russian citizens have come under attack in recent years -- particularly Roma, Jews, and people from the North Caucasus.

Increasingly, the assailants are teenagers, sometimes as young as 12. But this doesn't mean the ultranationalist movement is getting younger.
"This is a false impression. They are simply the ones who get caught," says Kozhevnikova. "The verdicts show us that the movement is growing older. Before, people left after turning 18 or 20, when the time came for them to get a settled life. Now, belonging to ultranationalist circles actually helps people settle in. For the movement, this means a higher intellectual level, better financial resources, and organization skills, as well as prison experience, since people return after serving their sentences. This represents a huge danger."
Rising Russian Nationalism
Rising Russian Nationalism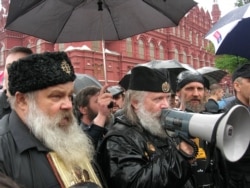 Orthodox believers and nationalists heckling a gay-rights rally in Moscow in May 2006 (RFE/RL)
A THREAT TO CIVIL, RELIGIOUS LIBERTIES: Several leading experts told a briefing hosted by RFE/RL and the U.S. Commission on International Religious Freedom that several mounting trends in Russia are posing a growing threat to human rights, especially for members of the country's ethnic and religious minorities.
LISTEN
Listen to the entire briefing (about 90 minutes):

Real Audio
Windows Media
RELATED ARTICLES
Why Putin Is Going To The Vatican
Bishop Assails Russian Orthodox Church

A thematic webpage devoted to issues of religious tolerance in RFE/RL's broadcast region and around the globe.