Timur Kacharava, a 20-year-old antiracism activist, and his friend Maksim Zgibai were attacked outside a St. Petersburg bookstore in November 2005 by a group of teenagers.
Kacharava was stabbed to death and died on the scene. Zgibai survived the attack despite multiple knife wounds and severe brain damage.
Today, the St. Petersburg City Court sentenced seven teenagers to prison for the attack. The main defendant, who is now 14 years old, was sentenced to 12 years for murder and attempted murder.
The other defendants received prison sentences ranging from two to three years -- some of them suspended -- on charges of hooliganism and inciting ethnic hatred.
'Tough Response' Needed
For Aleksandr Brod, the president of the Moscow Bureau for Human Rights, the verdict is a step in the right direction.
"On the whole, it's a fair verdict," Brod says. "Judges are progressively awakening to the danger of growing fascist tendencies in Russia. In our view, a tough response from prosecutors and judges is one of the best ways to fight xenophobia and neofascism."
While critics say Putin's recent promise to crack down on extremism has allowed a crackdown on all forms of dissent, a number of rights activists argue that such public pledges may be encouraging judges to take tougher action against racist offenders.
'Organized, Group Murders'
Today's verdict has also met with criticism. Human-rights lawyer Olga Tseitlina, who represents the Kacharava family, told RFE/RL's Russian Service that the crime's organizer remains unpunished.
"Only one defendant has been sentenced for murder. The organizer, the ideological mastermind of this crime, is still wanted by the police," Tseitlina says.
"This is part of a tendency. Why would the authorities want to show that organized, group murders exist here? It's easier to say that some teenager got it into his head to kill someone," she adds.
Human-rights campaigners have long accused the authorities of turning a blind eye to rising hate crimes by convicting assailants of hooliganism, a charge that carries lighter sentences.
Veteran human-rights activist Yuly Rybakov also regrets that the other six defendants got away with relatively lenient sentences.
"Once more we're dealing with a case where all the responsibility is shifted to one of the weakest participants selected from a group of obvious criminals," Rybakov says. "Organized groups and those who are behind them remain unpunished or are handed minor sentences."
Russia's Racist Crime Wave
Nonetheless, rights activists hope the verdict will deter further attacks and help curb the surge in racially motivated violence across Russia.
According to Sova, a Russian organization that monitors hate crimes, 37 people have been killed so far this year in racist attacks -- 22 percent more than for the same period last year.
The mounting racist violence is causing deep concern among ethnic minorities in Russia.
The Russian Council of Muftis last week issued a statement
calling on Russian authorities
to do more to combat racism.
In an interview with RFE/RL's Tatar-Bashkir Service, the council's head, Ravil Gainutdin, said ethnic minorities in Russia are living in fear.
He was speaking after meeting with the mother of Damir Zainullin, a Tatar student who was killed in a racist attack in St. Petersburg in June.
No Way Out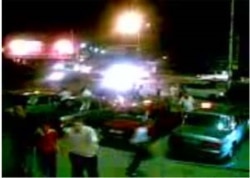 A screen shot of amateur video depicting the scene in Stavropol on May 24 (RFE/RL)
OUTNUMBERED: Hasan Gakiyev, a young Stavropol resident, was among the Chechens caught up in the city's violent ethnic clashes on the night of May 24. He says the Chechens might have been able to walk away from the confrontation with local skinheads had it not been for local OMON riot police, who created a blockade preventing their escape. He told his story to RFE/RL's North Caucasus Service.
We went outside around 8 o'clock at night. The non-Russians gather in the northwestern part of the city, near a salon with slot machines.
As we were hanging out, a group of skinheads approached us. Most of them had completely shaved heads, although some of them had some hair.
One of them asked if we knew that one of "ours" had been beaten up recently. We did know that one day earlier, a young man was severely beaten and was in the hospital. He was hit in the head three times with a steel rod.
"Was that your comrade?" they asked.
We answered: "Yes, that was our friend. So what happened?"
"We were the ones who beat him," they said.
As we were discussing this, three police officers approached. One of them suggested that a person from each group fight it out one on one, and then we could disperse and go home.
We agreed. After our comrade beat up one Russian, we continued sorting things out for about five minutes. When we walked away, they began throwing rocks and bottles at us. Very soon, a fully-equipped group of OMON was in front of us. So we were trapped between the OMON and the skinheads.
The OMON officers said to us: "Calm down. That's it. Quiet. Calm down." We told them not to talk to us, but to those who were chasing us.
From time to time, the OMON would give orders to the skinheads to beat us. We tried to fight back, but we were outnumbered. We tried to run away, but many of us were caught and brought to the local OMON headquarters.