The new laws regulate the numbers of migrant workers and slap heavy fines on businesses that employ illegal workers. Most affected will be the millions of workers, mostly from the Caucasus and Central Asia, working in the country's outdoor markets and bazaars.
Qurbonali, a Tajik migrant working in the Cherkizovo market in Moscow, is one of millions of migrants working in Russia.
Unknown Consequences
"Most people in our market are illegals," he told RFE/RL. "We don't know what consequences of that will be."
"Sometimes laws are used as a sword of Damocles above the heads of Azeris in Russia. Russian police take bribes and use the laws to frighten," one activist for ethnic Azeris told RFE/RL.
His is a familiar refrain: uncertainty and fear. Workers like Qurbonali know the new laws are in place, but they don't know exactly how they will be affected.
A government decree went into effect on January 1, but with the holiday hiatus is only now being enforced. The decree restricts the number of non-Russians working in the retail trade in outside markets and kiosks. Now the quota is set at 40 percent. From April 1, it will incrementally decrease to zero by the end of the year.
Caught In A Squeeze
Already, the authorities are carrying out strict checks on markets for illegal workers. Employers face fines of up to 800,000 rubles ($30,100) for employing staff without proper documentation.
Another Tajik worker, Ilhomuddin Amriddinov, says the law is already making things more difficult.
"It will be more difficult for people who are working here," Amriddinov says. "Really, even employers say they can't give you any work. [As a result,] most people want to go home [back to Tajikistan]."
Racial Violence
The tighter laws come in the wake of incidents such as the race riots in northern Russia last year.
In the northwestern city of Kondopoga in September, a restaurant brawl between ethnic Russians and Chechens left two of the Russians dead.
Following the killings, angry mobs burned down the restaurant and ransacked local market stalls and stores owned by Chechens and others from the Caucasus.
Popular sentiment is growing against illegal immigrants. Race attacks and hate crimes are on the rise. Many Russians complain about the high number of foreigners in the country.
A Shift To The Right
Rights campaigners say the law represents a worrying shift to the right in Russia. They say the Kremlin has not done enough to clamp down on racist organizations targeting migrants and that comments from the Kremlin have partly encouraged a rise in popular nationalist sentiments.
Last year, Russian President Vladimir Putin said Russians should be given more jobs in the country's markets.
But the situation is far from black and white. Some observers say the new laws could in some way help migrants. Part of the legislation that goes into effect today will actually ease the process of a migrant obtaining a work permit.
Hokimsho Muhabbatov is a Tajik analyst based in Moscow. He says the effects of the new legislation will be mixed.
"The new rules will have some positive and some negative effects for migrants," Muhabbatov says. "The positive effect is the simplification of registration rules for migrants in Russia. In the past, migrants could register for only three months, but now they can do so for six months or one year. But on the other hand, the rules have been tightened for employers who give work to Tajik migrants. Companies that use illegal migrants will be fined 800,000 rubles. Most employers, who employ Tajik migrants virtually for free, will employ fewer Tajik migrants after that."
What that means is more uncertainty and, in many cases, a scramble to get legal.
"Everybody is getting ready, collecting all the necessary documents, trying to find out how they can [legally] work, Janybek Kojomberdiev, a representative of the Kyrgyz diaspora in Rostov-na-Donu, says. "But 30 percent of our people working in two big markets have already received [Russian] passports. Some people applied [for Russian citizenship]. In two to three months, 50 percent [of Kyrgyz migrants] will hold [Russian] passports."
Many migrant workers are not worried about the law itself, but its implementation.
Elections Looming
"The law may be good, but we are talking about how the law is implemented in Russia," Mais Seferli, the chairman of Yurddash, a political party in Azerbaijan, told RFE/RL. "And this implementation is often very bad. Sometimes laws are used as a sword of Damocles above the heads of Azeris in Russia. Russian police take bribes and use the laws to frighten. The main problem for Azeris [working in Russia] is the unfair implementation of these laws."
The issue is not likely to go away anytime soon. With popular antimigrant sentiments growing and parliamentary elections in December, the Kremlin is unlikely to soften its approach.
For Russia's migrants, that means 2007 will probably not be the easiest of years.
(RFE/RL's Tajik, Azerbaijani, and Kyrgyz services provided material for this report.)
Democracy In Russia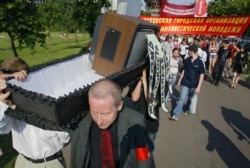 Demonstrators in Moscow carry a coffin with a television in it to protest government control over broadcasting (TASS file photo)


DO RUSSIANS LIKE THEIR GOVERNMENT? During a briefing at RFE/RL's Washington office on November 15, Richard Rose, director of the Center for the Study of Public Policy at the University of Aberdeen, discussed the results of 14 surveys he has conducted since 1992 on Russian public opinion about democracy and the country's development. He discussed the implications of these opinions for relations with the West and for Russia's 2008 presidential election.
LISTEN
Listen to the complete discussion (about 42 minutes):

Real Audio
Windows Media
RELATED ARTICLES
U.S. Election Expected To Chill Relations With Moscow
Are Mayors Next 'Power Vertical' Victim?
Monarchist Nostalgia Remains Powerful
Russian Election Commission Rejects Third-Term Appeal
Romanov Burial May Be Part Of Kremlin Image Campaign
ARCHIVE
All of RFE/RL's English-language coverage of
Russia
.


UPDATED CONSTANTLY: Visit RFE/RL's Russian-language website, featuring news, analysis, features, streaming audio, and more, in Russian, from RFE/RL's Russian Service.