"Why do the children of a nation that fought against fascism and defeated it become fascists?" council Chairman Ravil Gainutdin said in a telephone interview with RFE/RL's Tatar-Bashkir Service.
"Why is there an ideology [claiming] that non-Russians are not people, that they shouldn't live on our land, in our country?" he added.

Appeal For Action
Gainutdin's comments came after his meeting in Moscow today with the mother of an ethnic Tatar student who was recently killed in St. Petersburg.
"Why should we, Muslims, non-Russians, be afraid of sending our children out to schools, universities?"
Damir Zainullin, 23, was stabbed to death while on his way to work on July 1. Police initially said the killing was an ordinary street crime, but Tatar community groups have insisted that the evidence shows that the killing was racially motivated.

A lawyer for Zainullin's family has said video from surveillance cameras near the attack showed 17 people, including a young woman, assaulting him.

"Today [the Council of Muftis] appealed to the president, the interior minister, the prosecutor-general, and St. Petersburg Governor [Valentina] Matviyenko," Gainutdin told RFE/RL. "By doing this we express our deepest concern not only about this happening in St. Petersburg, but the dangerous ideology spreading not only in St. Petersburg, but in all of Russia."

The Council of Muftis, a grouping of prominent Muslim leaders in Russia, in a statement posted on its official website today lamented the "insufficiency of measures undertaken" since the hate-crime killing of a nine-year-old ethnic Tajik girl, Khursheda Sultonov, in St. Petersburg in 2004.

In March 2006, a Russian court found eight teenagers guilty of hooliganism in connection with the killing of Sultonov, who was stabbed nine times in the chest, stomach, and arms.

"We always should remember that the unity and the integrity of our country in many respects depends on a climate of interethnic tolerance; on the maintenance of rights and freedoms and, especially, the right to life, of all people who live or who take shelter on Russian territory," the statement said.
'Secure Our Lives'
Gainutdin expanded on the council's message during his interview today with RFE/RL's Tatar-Bashkir Service.

"Why should we, Muslims, non-Russians, be afraid of sending our children out to schools, universities?" he asked. "Why don't our president and prosecutor-general protect every citizen's right to life guaranteed by the constitution? They should protect and secure our lives."
Epidemic Of Hate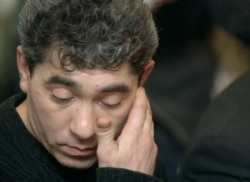 Yusuf Sultonov, whose 9-year-old daughter was beaten and stabbed to death in St. Petersburg on February 9, 2004 (TASS)

EXTREMISM ASCENDANT: More than half of Russians have xenophobic views, according to a report published in August 2005. In the report, rights groups say that -- despite progress in some areas -- racism, xenophobia, and anti-Semitism remain rife in Russia. But what worries watchdogs most are recent moves by nationalist-patriotic movements to form paramilitary groups....(more)
RELATED ARTICLES
A Timeline Of Recent Racial Incidents
Russian Ombudsman Condemns Hate Crimes
Hate Crime Trial Highlights Mounting Racism
Minister Says Russia Can't Stop Xenophobia Alone
For African Students In Russia, Affordable Education Comes At A Price
ARCHIVE
To view an archive of all of RFE/RL's coverage of Russia, click here.

SUBSCRIBE
For a regular review of civil-society developments throughout RFE/RL's broadcast region, subscribe to "RFE/RL (Un)Civil Societies."


RFE/RL IN RUSSIAN: Visit RFE/RL's Russian-language website, featuring news, analysis, features, streaming audio, and more in Russian, courtesy of RFE/RL's Russian Service.