Presenting his annual report in Brussels today, UNODC Executive Director Antonio Maria Costa said Afghanistan now produced more narcotics than any other country since the 19th century, when China held that dubious distinction.
One hundred and ninety-three thousand hectares of opium poppies were cultivated this year, and the resultant crop is estimated by the United Nations drugs office at a record 8,200 tons. That's one-third higher than last year. The drug-based economy is half the size of the country's official gross domestic product.
Costa said his data showed the drugs trade was now inextricably intertwined with the Taliban insurgency in the south of the country.
"I would say that now we are reaching rock bottom, in [a] sense, with this understanding of the drug situation in Afghanistan as being fundamentally today a problem of insurgency," he said. "[The fact that] 78 percent of the cultivation [is] located in the provinces which are out[-side] of the control of the government shows clearly that we are not facing a narcotics problem, we are facing an insurgency problem."
Dangerous Nexus
Costa was speaking on the sidelines of a high-level international conference in Brussels where European and UN officials debated the problem. Afghanistan was represented by Second Vice President Karim Khalili.
The nexus of drugs and insurgency has become something of a hot potato. Afghan President Hamid Karzai caused consternation in Western capitals when he criticized NATO for being unable to rein in the rampant poppy production in Helmand and neighboring provinces. Britain, Canada, and other NATO countries have taken heavy casualties this year and have appeared reluctant to antagonize the local population further by getting involved in fighting poppy cultivation. Many NATO countries are under intense domestic pressure to leave Afghanistan.
Costa today showed a map, compiled with the help of local governors, showing large areas of southern Afghanistan that he said were outside Afghan government -- or NATO -- control:
"Those are districts in the five provinces which are under permanent Taliban control -- which means [a] permanent Taliban [presence]," he said. "Having asked the governors of these five provinces what happens and what it means when the government lost control, they told me they had withdrawn the police from those districts, [along with] any judicial presence, any educational presence, or any health presence. The judicial system being in force in these districts of these provinces is [one laid out on] Islamic principles by the Taliban themselves."
Helmand Province is at the root of the problem, accounting for more than half of the country's opium production. Neighboring Kandahar, Oruzgan, Farah, and Nimroz are the other lawless provinces that Costa mentioned where production is highest.
Costa also said 87 percent of the estimated 500,000 families involved in poppy cultivation were Pashtun. The Taliban is nearly exclusively a Pashtun movement.
Drugs Moving Freely
The report quotes surveys conducted among farmers. Their results suggest that poverty and hopes of financial gain are the main motivators for farmers who took up poppy growing.
Fear of eradication was cited by less than 1 percent of the farmers who had stopped growing poppy. More than half said they quit out of respect for the government ban or edicts issued by local elders. More than a quarter of those farmers who have not cultivated poppy say they do not do it because it is seen as un-Islamic. Yet a mere 1 percent of those who had given up poppy farming cited Islam as a reason.
Costa today suggested that the government was losing the fight against drugs on more fronts than the southern provinces. He said that for the first time since 2004, domestic opium prices were again converging across the country, indicating drug shipments can move around freely. Opium costs the same in the south and the 13 northern provinces where poppy is no longer cultivated.
Symbolic of the government's slackening control over the situation is a nearly 1,200 percent increase in poppy cultivation around the capital Kabul, admittedly from a very low base.
Costa said the Afghan government's eradication drive had been "ineffective and corruption-prone."
Afghanistan's ambassador at the United Nations, Zahir Tanin, today ruled out more aggressive measures such as aerial spraying.
"We don't want any measures towards eradication [to] alienate the farmers, alienate more than 3 million people who are part of this business," he said. "And this is why there is hesitation in the government to balance [or] to weigh up its acts in implementing the counternarcotics strategy."
Tanin said preserving stability in the country remained the government's first priority.
Tanin also lay some of the blame on European governments, in whose countries most of the heroin processed from Afghan opium ends up and whose consumption creates most of the demand for the drug.
Afghanistan's Opium Problem
Afghanistan's Opium Problem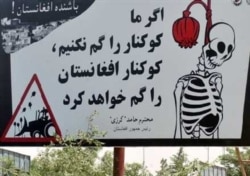 An antidrug billboard in Kabul shows a skeleton hanging from an opium bulb (AFP)
OPIUM FARMING ON THE RISE Despite a nationwide program by the Afghan government to eradicate opium-poppy fields and offer farmers alternative crops, international experts say that the 2006 opium crop was as much as 50 percent larger than the previous year's record crop. Afghanistan also accounted for practically all of the world's illegal opium production.(more)
RELATED ARTICLES
NATO Struggles With Security, Rebuilding In Southern Province
UN Antidrug Chief Wants NATO To Destroy Opium
Saffron Could Help Wean Farmers Off Opium Poppies
Poppy-Eradication Drive Launched In Western Province
Insurgency Gains Ground As Poppy-Eradication Efforts Struggle
SUBSCRIBE
For weekly news and analysis on Afghanistan by e-mail,
subscribe to "RFE/RL Afghanistan Report."